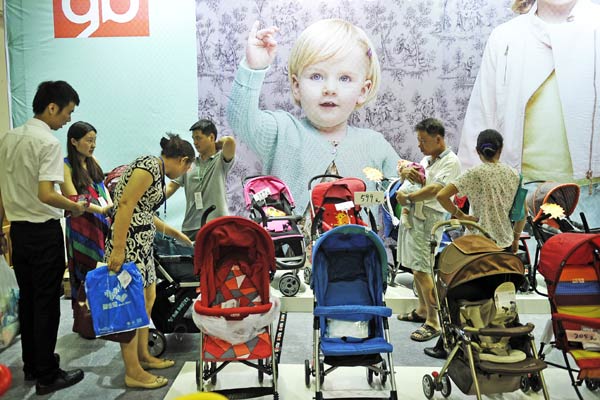 Parents choose strollers at a baby and toddler product expo in Fuzhou, East China's Fujian province, on May 30. CHINA DAILY
Rising awareness of parents lifts demand for safe products, says GfK survey
Demand for safe child-care products will continue to grow in China as safety awareness among young parents increases, said a report released in Shanghai on Thursday.
Total retail sales of accessories for feeding such as nursing bottles and spoons made of safe materials in China may expand to more than 5 billion yuan ($800 million) this year, while vehicle-use child safety seats and baby monitors may see renewed demand, said the report published by GfK, a global market monitoring and research services provider.
The report, which tracked consumer choices across China, found that the compound annual growth rate of products for feeding newborns and toddlers reached 24 percent in the past three years, and said it will continue to rise steadily.
Monthly spending on newborns and toddlers under the age of 3 including their feeding, clothing and toys across China reached some 500 yuan, and is on track to grow further. Average prices for such products for young children have also picked up, the report said.
On average, the price of a glass nursing bottle stood at 97 yuan, about 60 percent higher than that of a plastic one by the end of the third quarter of 2013, as glass bottles are considered safer than those made from other materials, the GfK data showed.
"I don't really care about the price. Quality and safety are the determining factors when I purchase products for my daughter," said Feng Lijing, a 32-year-old mother in Shanghai.
Her monthly spending on the 2-year-old is about 4,000 yuan, more than half of her monthly income, she said.
Safety concerns should also accelerate sales of child seats in vehicles and baby monitors, which were introduced in China years ago.
In Europe and the US, about 90 percent of the families with young children may purchase and use child seats in their cars, while in China the figure is much lower.
Policymakers have been stressing the importance of using these products, and in Shanghai a local regulation has urged that children under the age of 4 must be seated in a safety seat when traveling by car, said Jin Lan, director of the East Region at GfK China.
Baby monitors are another product that may see surging demand, as China has a growing number of working parents who are willing to buy and can afford such products.
Chinese baby monitor makers are yet to establish their presence in the market and as such there are also no industry standards. As a result, various brands may use different wireless monitoring techniques in their products, said sources.
The GfK report said Chinese parents favor European brands and specialty stores when choosing products for young children and mostly end up buying high-end brands.
Zhang Xuzhi, Shanghai-based distributor of a German brand of baby products, said a set of milk heater and bottle cleaner that he distributes is priced at 1,200 yuan, about 10 times that of a domestic brand.
He said such imported brands are often sold out within two days of arrival.
For domestic brands, it is essential to research and develop core technologies and materials to win consumers' trust, and it is foreseeable that competition in the sector may become increasingly fierce with the entry of more players, said Jin from GfK.