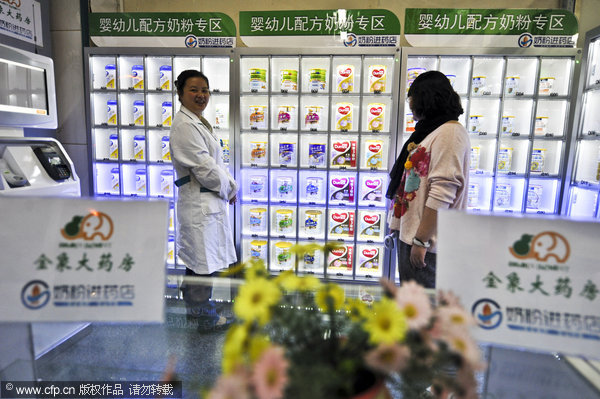 Jin Xiang Pharmacy in Beijing's Xicheng District sells powdered milk in automatic vending machines, on Oct 25, 2013. [Photo/CFP]
BEIJING - China's food and drug watchdog on Friday said it had renewed production permits for 82 baby formula producers as of Thursday.
A total of 51 producers failed to obtain renewed production permits or asked to delay applications for renewals, said Ma Chunliang, an official with China Food and Drug Administration (CFDA).
These are the results of a half-year campaign after the CFDA unveiled a revised regulation to step up standards for domestic infant formula producers.
Lists of producers with renewed production permits have been publicized on the CFDA website and the public is welcome to monitor their performance, Ma said.
In the past year, the CFDA sampled 2,698 baby formula products from 86 enterprises in 22 provinces and did not find unqualified samples, according to Ma.
The revised regulation, Detailed Rules on Examination of Production License for Infant-formula Milk Powder Producers (Version 2013), was issued in December last year and raised requirements for infant formula producers in nine areas, including product safety control, purchase of raw materials, formula product inspection, manufacturing process and product traceability.