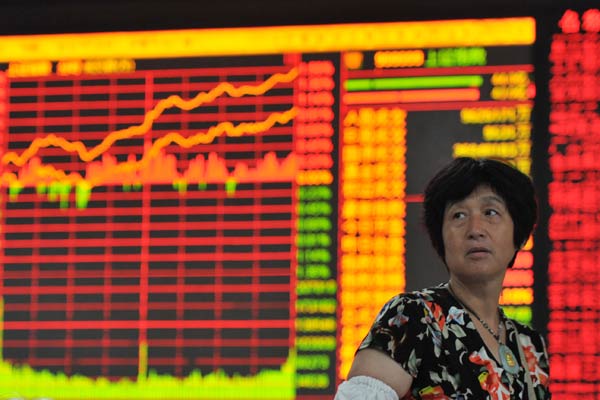 An investor checks stock prices at a securities firm in Fuyang, Anhui province. The Shanghai index has pared some of its losses in the past two months, rallying 1.8 percent as the government unveiled measures to support economic growth. LU QIJIAN/CHINA DAILY
Arnout van Rijn cannot resist a good arbitrage opportunity.
The chief investment officer in Hong Kong for Robeco, whose Asia-Pacific stock fund beat 92 percent of peers in the past three years, said he has wagered on narrowing price gaps involving dual-listed stocks in Thailand, South Korea and Singapore during a more than 20-year career managing money.
He has now turned to China, where equities traded on the mainland are valued at the biggest discounts since 2006 versus their counterparts in Hong Kong.
Robeco is using its quota under the Qualified Foreign Institutional Investor program to buy mainland consumer and industrial companies with dual listings in Hong Kong, anticipating the price gaps will narrow as an exchange link with Shanghai makes it easier for money to move between the two bourses. While the mainland discount has grown as local investors exit the Chinese market and international money managers await details of the exchange tie-up, van Rijn said those who buy now and hold their positions will be rewarded.
The benchmark Shanghai Composite Index was down 3.3 percent this year through Friday, compared with a 4 percent fall in the Hang Seng China Enterprises Index of mainland companies listed in Hong Kong, known as H shares.
The Shanghai index has pared some of its losses in the past two months, rallying 1.8 percent as the government unveiled measures to support economic growth.
The Shanghai and Hong Kong exchanges agreed on April 10 to allow as much as 23.5 billion yuan ($3.8 billion) of daily cross-border trading, opening up the mainland market further to foreigners while giving wealthy mainland investors a route to buy Hong Kong stocks. Authorities at the time said the link would start in about six months.
Existing rules restrict overseas money managers seeking investments in China to foreign currency-denominated B shares, while only approved institutional investors can invest in yuan-denominated A shares.
"A-share blue chips at a discount to H shares are set to benefit," Tony Lau, a Hong Kong-based senior equity specialist at Coutts & Co, which oversees about $49 billion, said in an e-mail on Friday. "In the medium term, we believe fund flows from Hong Kong to Shanghai will dominate."
While the markets' valuation difference narrowed more than 4 percent in the first month after the exchanges said they would link trading, the gap has since grown to the widest level since May 2006. The Hang Seng China AH Premium index dropped 0.3 percent to 90.72 on July 11, signaling a 9.3 percent discount for A shares. A reading of 100 would show valuations on the two markets had converged.
Some money managers are still waiting for further details on how the exchange link will work, including whether China's government will enforce a capital-gains tax, said Ryosuke Kawahata, a Tokyo-based money manager at Mizuho Asset Management, which invests in the A-share market via the QFII program, by phone on June 26.
China's personal-income laws stipulate that gains from stock trading are subject to a 20 percent tax, though the finance ministry and taxation bureau have exempted investors from the levy since 1994 to promote the development of the stock market.