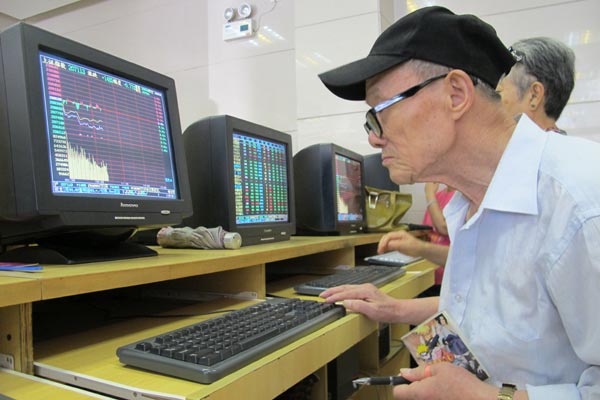 An investor checks equity prices at a securities firm in Haikou, capital of Hainan province. Most investors consider the Shanghai-Hong Kong Stock Connect program to be more flexible and fair than the QFII/RQFII programs. Shi Yan / For China Daily
Since the China Securities Regulatory Commission announced the rules for the Shanghai-Hong Kong Stock Connect program, institutions and investors have been gearing up for the new cross-border equity program, according to index provider MSCI Inc Managing Director Chia Chin-Ping.
The pilot plan, known informally as the "through train", may create a fairer, more flexible trading environment that will boost interest from global investors and lead to A shares being included in the most important global stock index, said Chia.
"Some investors view this new program as an access channel that has the potential to mitigate some of the market accessibility issues of the current systems," Chia said in Shanghai.
The pilot program announced in April, which is expected to start in October, allows investors to trade and settle eligible shares in each other's market via local exchanges and clearing houses. "In terms of market access, this program requires no quota application, and there is no need to wait for approval from related authorities. It will be handled on a first-come-first-served basis. It is a breakthrough from the current system," Chia said.
Overseas investors now mainly trade Chinese mainland shares through the qualified foreign institutional investors and renminbi qualified foreign institutional investors programs. The CSRC grants licenses and market access to qualified applicants for these programs, while the State Administration of Foreign Exchange approves quotas for individual funds.
"One of the main issues under this system is that not all investors are offered fair market access based on their asset size, location of operations, investor profile, investment type or the chosen access scheme," Chia said.
It's hard for some smaller investors to qualify for the QFII program. And for large international passive asset managers, the $1 billion individual quota cap under the QFII program makes it impossible to accommodate the necessary investment allocation to track the MSCI Emerging Markets Index.