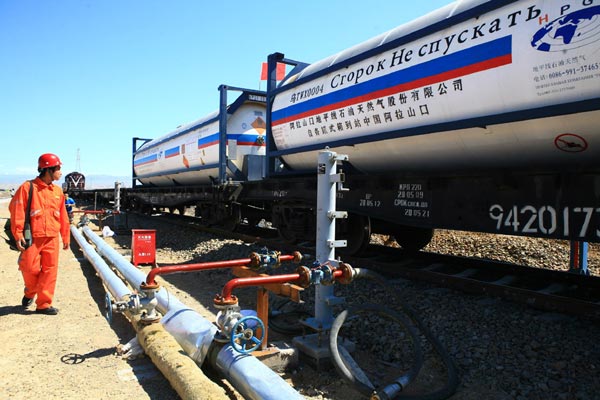 LPG exported from Kazakhstan arrives at Alataw Pass, Xinjiang. The abundant oil and gas resources in Eurasian countries and China's expertise in renewable technologies are expected to create the framework for a cohesive partnership among the countries on the New Silk Road. [Photo/Xinhua]
China must play a bigger role in the mechanisms that govern the energy industry, says expert
Urban Rusnak, secretary-general of the Brussels, Belgium-based Energy Charter Secretariat, believes that the "New Silk Road" will provide several complementary advantages and win-win opportunities for nations that are part of the proposed economic corridor.
Citing the energy sector as an example, Rusnak said the abundant oil and gas resources in Eurasian countries and China's expertise in renewable technologies and equipment can help create the framework for a cohesive, win-win partnership among the countries on the New Silk Road.
"The more the regions to be developed and interconnected, as seen from the experiences in Europe, the bigger the opportunities are, not only for local people, but also for countries and companies having operations there," said Rusnak.
The Silk Road has played a significant role in promoting China's commercial prosperity as well as in the development of its civilization. Last year, President Xi Jinping proposed to build a Silk Road economic belt and a 21st century maritime Silk Road, called the "New Silk Road".
The biggest advantage for Central Asian countries from the New Silk Road is the access it provides to the well-developed renewable technologies in China, Rusnak said. Though the demand for renewable energy is high in these regions, they do not have the requisite technologies for developing renewable energy, he said.
Good-quality products at affordable prices can boost the development of renewable technologies in Central Asian countries, as many of them do not have the required finances to subsidize electricity generation.
This is where, Rusnak feels, that China can play a big role as its economic strength allows it to supply good-quality, affordable products to Central Asian nations.
"It is important to develop all the possible sources of energy. China has already set a good example in this regard ... They are doing the right thing and taking all possible steps to meet the energy demand and diversify the energy mix," Rusnak said.
It's unreasonable to significantly reduce China's reliance on coal in the short term, but it is also equally important to deploy clean coal technologies and gradually reduce the environmental impact of coal on the environment. China also has great responsibility to transit to a greener economy as a big energy producer and a big polluter, he said.