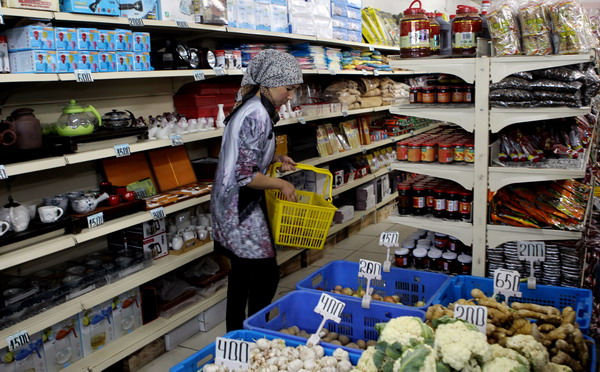 A local woman buys some food in a Chinese-owned store at Yalian market in Almaty, Kazakhstan. The majority of staple goods consumed by Kazakhs are imported from China. [Photo / China Daily]
Editor's note: During his visit to Kazakhstan in September, President Xi Jinping proposed that China and Central Asia join hands to build a Silk Road economic belt to boost cooperation. The idea has been widely echoed in Central Asian countries, becoming an encouraging blueprint for Chinese areas along the Silk Road that has linked Asia and Europe for more than 2,000 years. In the next three weeks, China Daily reporters will travel through the belt. They will show the progress and expectations of the countries, businesses and peoples on the route.
The construction of the Silk Road Economic Belt could create more job opportunities for young people in Kazakhstan because it will attract more Chinese businesses to invest in the neighboring country, university students said.
"We've seen more Chinese companies opening up offices in Almaty, and translators who are fluent in Russian and Chinese are in high demand," said Ella Mazhebitskay, a student in the International Relations and World Languages program at Kazakh State Ablai Khan University in Almaty.
Almaty, the former capital of Kazakhstan, is only 378 kilometers away from Horgos Port, a border pass between China and Kazakhstan in the Xinjiang Uygur autonomous region.
Following a suggestion by her father, who had business connections with China, Mazhebitskay, 21, has been studying Chinese for five years and now works part time as a translator in a Chinese company trading in mineral products.
"Young university graduates in Kazakhstan are facing increasing difficulties in finding jobs, but it is not an issue for students who study Chinese," Mazhebitskay said.
She added that she has already been approached by a couple of other Chinese companies that plan to set up businesses in Almaty after President Xi Jinping proposed the Silk Road Economic Belt when he visited Kazakhstan in September.
Students often prefer working for large Chinese energy companies like China National Petroleum Corp because such jobs are considered more secure, given that the two countries are ramping up corporate involvement in the energy sector.
Oil and gas deals, including construction of an oil refinery in Kazakhstan, are among 22 agreements worth some $30 billion that were reached during Xi's visit in September. Additionally, Kazakhstan, which is rich in oil and gas resources, will sell more than 8 percent of the offshore oilfield in the Caspian Sea to China for about $5 billion.
According to Kazakhstan regulations, foreign companies must hire nine locals before bringing one staff member from their own country.
Alimzhan, 21, a classmate of Mazhebitskay's, said the requirement will not only boost economic development in Central and Western Asia, but also will encourage people to learn more about each other.
"Although China borders on Kazakhstan, Chinese people seem to know little about us. They are more interested in Europe and the United States," he said.