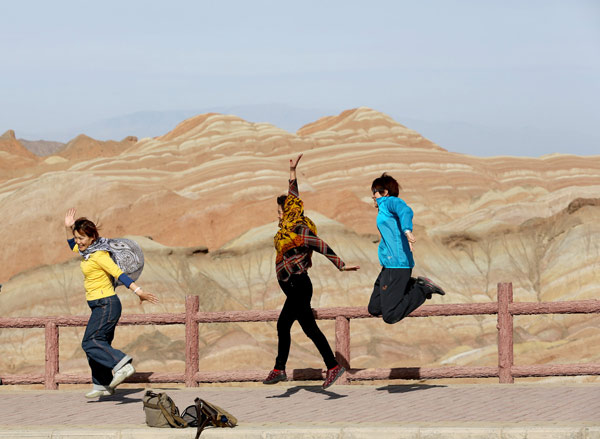 Tourists visit a geological park in Zhangye, Gansu province, renowned for its danxia, or sandstone, landscape. JIANG DONG / CHINA DAILY
Countries evaluate potential of a proposed economic belt that will revive memories of the ancient trade route, as He Na in Xi'an, Shaanxi province, and Xue Chaohua in Lanzhou, Gansu province.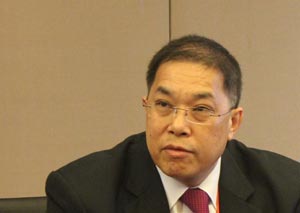 Connectivity is crucial
First person | Chutintorn Gongsakdi
Improved connectivity will promote greater flows of intra-regional trade, as well as increased personal contacts and cultural exchanges.
Pan-Asian connectivity will thus allow us to harness Asia's vast potential, to promote sustainable and inclusive economic growth, help close developmental gaps, and promote mutual understanding among our peoples.
Connectivity can be a catalyst for the development of the energy infrastructure and improved energy access through a more-comprehensively connected energy grid. It can also contribute to environmental protection through the development of environmentally friendly modes of transport.
The increasing need for efficient communications and Internet connectivity could also be achieved by better integration of the broadband network.
With the right strategies, the Asia Cooperation Dialogue can become a driving force for greater economic integration, intra-regional trade growth and sustainable development.
Thailand aims to promote regional connectivity, including that relating to the infrastructure and institutions, but also interpersonal connectivity along the lines of the approaches adopted by the Association of Southeast Asian Nations and the Asia-Pacific Economic Cooperation forum.
The 2nd ACD Summit is scheduled to be held in Thailand in 2015, and regional connectivity will be a key theme.
Chutintorn Gongsakdi spoke with He Na and Xue Chaohua.
Mao Minhui, director of Shaanxi Jingyang Fuzhuan Tea Development Center, hadn't expected his 50-square-meter exhibition stand to attract so much interest from overseas visitors. He was also surprised to find that businesspeople from Central Asian countries appeared to be falling over themselves to talk to him at the Silk Road International Expo in Xi'an, the capital of Shaanxi province.
"As tea is one of the favorite drinks for people from China's northwest, we target customers from the nearby western provinces and regions. However, the interest expressed by the people at the expo isn't really all that unusual; Fuzhuan tea was once one of the most important goods carried along the ancient trading route known as the Silk Road, which began thousands of years ago. We hope to take advantage of the opportunities presented by the development of the proposed Silk Road Economic Belt to get our tea sold in countries along the route," he said.
The original Silk Road was a land trade route that came into existence when a Chinese official, Zhang Qian, was sent on a diplomatic mission more than 2,000 years ago. Starting from the city known today as Xi'an, the ancient route ran through northwest China's Gansu province and the Xinjiang Uygur autonomous region, before carrying on through Central and Western Asia, and eventually ending at the Mediterranean.
A modern-day counterpart, called the Silk Road Economic Belt, was proposed by President Xi Jinping when he visited Kazakhstan in September. Xi urged increased cooperation between the countries within the proposed zone, including Cambodia, Thailand, Turkey, Tajikistan, Uzbekistan, Iran and Russia, to ensure that the dream becomes a reality. Currently, though, the idea remains just that, and there is, as yet, no timetable for implementation.
If the concept does become hard fact, many industries within the zone - such as energy, resources, transport and agriculture - will have a promising future. However, for that to happen, some basic problems will have to be addressed by China's near neighbors.
"Central Asia has abundant gas, oil and mineral resources, but its industry chain is comparatively poor. China is different, however. Take Shaanxi province, for example - it has high-end and advanced gas and oil manufacturing and infrastructure. The two parts are highly complementary," said Zeng Zhaoning, professor at the School of Economy and Management at Xi'an Shiyou University.
For Mao, the potential of the suggested route is big enough to justify the formulation of long-term plans.
"Our next move will be to accelerate the pace of our research into the Central Asian market and draw up a sales strategy. If it happens, the economic belt will be a rare opportunity, and we don't want to miss out."
Like Mao, many people along the proposed route are hoping to get a piece of the action. Provinces, regions and countries are working against time to conduct preliminary research, and many have started drawing up plans.
"Joint effort" was one of the most popular phases among the officials who attended the expo, but there will be no shortage of competition either, because a number of places are attempting to position themselves the belt's starting point, main transport center, or core business area.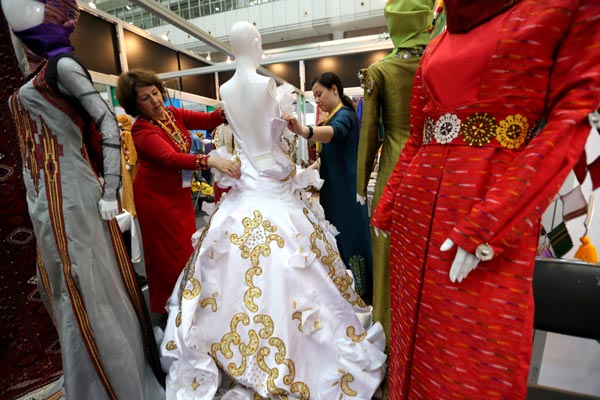 Dresses from Turkmenistan on show at the Silk Road International Expo in Xi'an, the capital of Shaanxi province. Businesspeople from across Central Asia discussed the proposed 'new Silk Road' at the event.