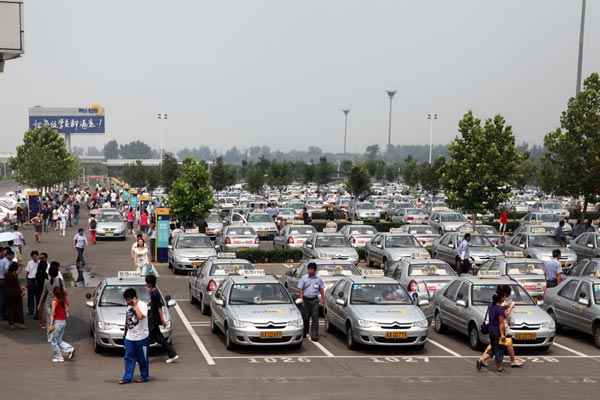 The training site of Eastern Pioneer Driving School Co Ltd in Beijing. The school intends to list its shares on the Shanghai Stock Exchange. CFP
Eastern Pioneer Driving School Co Ltd, one of the largest driving schools in Beijing, is set to become the first listed driving school in China if its initial public offering initiative is approved.
The school, with registered capital of 370 million yuan ($59 million), intends to list its shares on the Shanghai Stock Exchange. According to the draft prospectus it released on May 27, the company achieved 284.5 million yuan in net profit last year, 35.4 percent higher than the previous year. Its average gross profit margin over the past three years topped 60 percent.
The company said it plans to issue up to 50 million shares in the forthcoming IPO.
It costs about 5,000 yuan for each student to complete its driving training courses.
Driving schools make much higher profits than other automobile-related companies. Last year, the six listed auto retailers in China had an average gross profit of 4.4 percent. Automakers such as Great Wall Motor Co Ltd and FAW-Volkswagen Co Ltd saw gross profits of less than 30 percent in 2013. The gross profit margins for most listed auto part manufacturers were between 20 to 30 percent.
"One of the main reasons for the high profits of driving schools is policy monopoly," said Jia Xinguang, an independent auto analyst based in Beijing. "No countries other than China require that one must go to a driving school in order to get a driving license. On the other hand, the market of China's driving training is huge given rising automobile sales."
Passenger car sales doubled to 18 million units from 2009 to 2013, according to US-based Bernstein Research Group. China has overtaken the United States to become the largest automobile market in the world.
An estimated 22 million people went through driver training in 2012, up 14 percent from the previous year, according to the Ministry of Transport.
"It's becoming increasingly more difficult to get an appointment with the trainers," said Zheng Ran, a journalist working for China Cultural Daily and a student driver at Eastern Pioneer. "Once you have an appointment, you cannot afford to waste it. You have to do whatever you can to make time for it."
Liu Chang, a Beijing-based art designer who got her driver's license through Eastern Pioneer in 2007, said she was impressed by the school.
"It's common for Chinese driving instructors to accept bribes from the students," said Liu. "I did not have to give my trainers anything in exchange for them to be nice and patient with me."