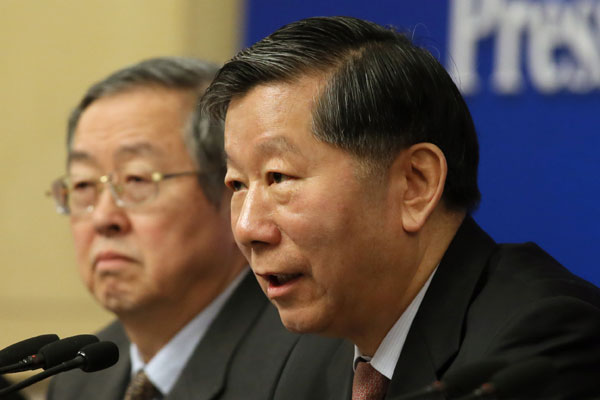 Shang Fulin (right),chairman of the China Banking Regulatory Commission,speaks at a news conference at the ongoing annual session of the National People's Congress. Wang Jing / China Daily 
Help may be at hand for cash-strapped small firms as regulators approve the establishment of banks backed by entrepreneurs, reports He Wei from Shanghai
For the first time in almost two decades, the nation's banking sector is set to get an infusion of private capital with the foundation of five institutions to be formed by entrepreneurs.
Regulators hope these new banks will provide more financing for cash-starved small companies and more competition for mammoth State-owned banks.
Ten private enterprises will "test the waters" in
Tianjin
and Shanghai, plus the provinces of Zhejiang and Guangdong, said Shang Fulin, head of the China Banking Regulatory Commission, on Tuesday.
The companies will establish five private-sector banks, Shang told a news conference on the sidelines of the 12th National People's Congress. Shang didn't release the names of the proposed banks, but he said each bank will presumably be led by two participating companies.
The licensed companies include Tencent Holdings Ltd and Alibaba Group Holding Ltd, both of which have aggressively rolled out wealth management products online, and two conglomerates - Fosun Group and Juneyao Group.
The CBRC said the chosen companies are financially sound, have strategies to differentiate their banks in the market and are capable of hedging risks.
These private banks will be the first to be formed since 1996, when China Minsheng Banking Corp was established.
Approval of the banks is a milestone in opening up a sector now dominated by State-owned institutions.
A Tencent-led bank will be established in the Qianhai experimental zone in the southern city of Shenzhen, a Tencent spokesman told China Daily via e-mail.
Shenzhen was the country's first special economic zone, established at the dawn of the era of reform and opening-up that began in the late 1970s.
"Teaming up with Shenzhen Baiyeyuan Investment Co Ltd, Tencent will leverage its existing advantages in Internet finance and launch more innovative and efficient financial services for customers," Tencent said in a statement.