He said the new bank will concentrate on regional business before it expands nationwide. But technological advances may erase the distinction between regional and national banks.
Lyu Weiguo, general manager of the Wenzhou Mer-chants Joint Investment Center, was "a bit disappointed" to learn that the center's joint application for a private bank license had failed.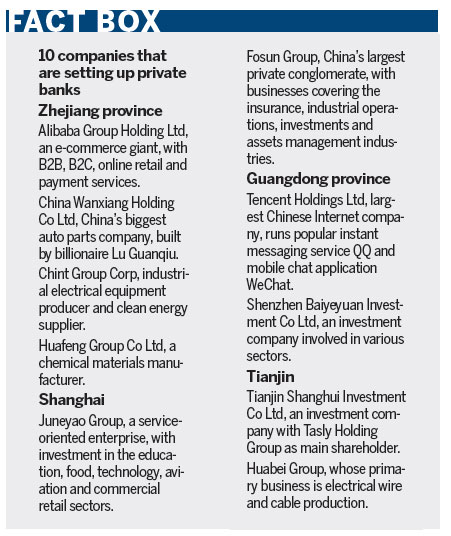 In tandem with another 11 Wenzhou-based chambers of commerce, Lyu submitted a first draft in June 2012 and a second one in June 2013 to the city's financial office, expressing a willingness to help SMEs struggling with funding.
"Our proposal was turned down, probably because we lack a solid capital base to cope with risks in the operation of a privately owned bank, compared with those approved enterprises," Lyu told China Daily.
Lyu and his associates plan to apply again, assuming more detailed policies are issued that target specific categories of borrower, such as smaller businesses in the city of Wenzhou.
At least one-third of China's SMEs need medium-and long-term loans to upgrade equipment or invest in new products, according to a survey conducted under the auspices of the State Council, the nation's cabinet, in 2013.
The push for private banks may raise hopes that they could help channel more financing to productive but cash-starved private companies, which provide a majority of the country's jobs, said Li Lihui, a former bank official and a national legislator.
"We haven't approved any privately run banks in 18 years, since China Minsheng Banking Corp in 1996. This year will see some major breakthroughs, "he said.
LiYang, vice-president of the Chinese Academy of Social Sciences, warned that the government should take further steps to head off banking risks, including strict supervision to protect the interests of customers.
There's no simple answer to the problem of SME financing, said Sun Lijian, director of the Financial Research Center at Fudan University in Shanghai.
"Small-cap banks may face higher financing costs than bigger ones, which implies there's a difficulty in granting low-interest loans to SMEs.
"In the worst-case scenario, the bad loan ratio is likely to rise, which may hurt smaller banks in the longer term," he noted.
Yu Ran in Shanghai and Zheng Yangpeng in Beijing contributed to this story.