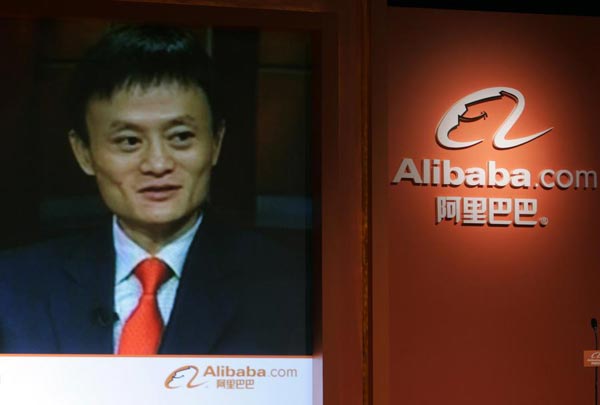 Alibaba Chairman and Non-executive Director Jack Ma participates in a teleconference in Hong Kong in this October 22, 2007 file photo, one day before its initial public offering in the territory. [Photo/Agencies]
Chinese e-commerce giant Alibaba Group Holding officially filed on Tuesday to go public in the US in what could be the largest initial public offering ever.
A regulatory filing gave a $1 billion placeholder value for the offering, but the actual amount is expected to be far higher, possibly exceeding $20 billion and topping not only Facebook's $16 billion 2012 listing, but Agricultural Bank of China Ltd's record $22.1 billion offering in Shanghai and Hong Kong in 2010.
Alibaba, founded by former English teacher Jack Ma in a Hangzhou apartment, and its bankers have been moving to throw their own shares behind the IPO, analysts have said.
In its filing Alibaba gave no date for the proposed IPO or whether it would be on the New York Stock Exchange or Nasdaq. It cited its advantageous placement in a nation in which e-commerce is fast becoming a way of life, as Chinese consumers turn to the Internet to buy innumerable items. But Alibaba's prospectus cited statistics showing that the market hasn't been fully tapped. Just 45.8 percent of China's population used the Internet, lower than in the US and Japan, while 49 percent of customers in the country shopped online, according to the prospectus.
Often described as a combination of EBay and Amazon, Alibaba handled $240 billion of merchandise in 2013. With more than 7 million merchants, it has more than $2 billion in revenue and profit of more than $1 billion.
Alibaba's sheer size could weigh on the stock price of US rival Amazon.com if the Chinese company's shares are added to indexes and portfolios targeting e-commerce and related sectors, analysts said.
"Amazon simply doesn't measure up to the size of Alibaba's earnings and earnings growth rate," analyst Robert Wagner wrote.
Shares aren't expected to begin trading for several months, as the US Securities and Exchange Commission reviews Alibaba's offering materials and the company promotes its prospects to institutional investors in global financial centers.
The offering managers are Credit Suisse, Deutsche Bank, Goldman Sachs, JP Morgan, Morgan Stanley and Citigroup.
Ma, who has described the challenge of providing what he calls personal business as "my religion", is Alibaba's biggest individual shareholder, with an 8.9 percent stake.
Alibaba's announcement continues a flurry of IPO filings by Chinese technology companies. Internet security application developer Cheetah Mobile is expected to go public on the New York Stock Exchange on Thursday and is expected to raise $153.75 million to $178.35 million. Three weeks ago, Weibo Corp, the Chinese micro blogging service owned by Sina Corp and Alibaba Group Holdings Ltd, raised $285.6 million in a Nasdaq IPO, while real-estate listings website Leju Holdings Ltd raised $100 million in an initial offering on the NYSE.
"The key question for China is how much new money, if any, Alibaba will raise in this US IPO," Peter Fuhrman, chairman and CEO of Bejing-based China First Capital, told China Daily.
"If all the cash goes to Japan's Softbank and US's Yahoo, then it's hard to see how Alibaba, its customers and the hundreds of millions of Taobao-addicted Chinese consumers will benefit from the IPO." US web-portal company Yahoo is a 24-percent Alibaba shareholder, while Japan's Softbank has a 37-percent stake.
Taobao is an Alibaba e-commerce website on which some 7 million sellers with 800 million product listings pay Alibaba for advertising and other services. In 2013, the combined transaction volume of Taobao and Alibaba's Tmall shopping site reached $240 billion.
If Alibaba were to raise money from the US stock market to invest in its China business, Taobao could become even more dominant as China's largest and best e-commerce shopping platform, according to Fuhrman. "If so, China's future will include more products, more discounts, more great online buying opportunities for consumers in every corner of the country," the investment-company executive said.
Besides Taobao and Tmall, Alibaba also operates digital payment system Alipay, which is used as a mobile payment system on cell phones in China. Used much like credit cards in other countries, Alipay handled $519 billion in payments last year.
Nearly 20 percent of Alibaba's nearly $248 billon in merchandise sales last year was made through mobile phones in the fourth quarter.
Alibaba enjoys higher profit margins than US Internet retailers, analysts said, because it makes money from the commissions merchants pay for access or advertising. It doesn't own the merchandise sold on its sites and pays little taxes.