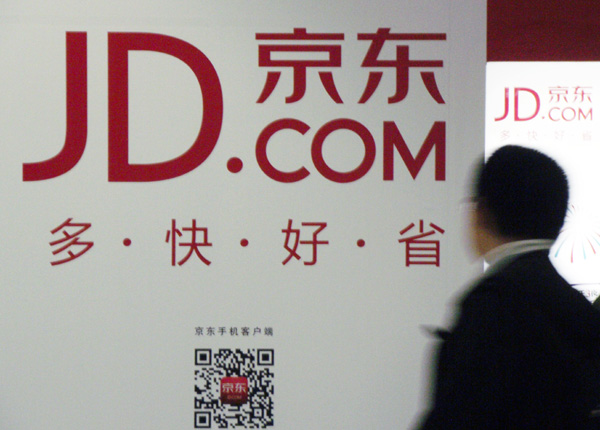 A man walks past an adevertisement for JD.com in Nanjing, capital of East China's Jiangsu province on June 12, 2013. [Zhen Huai / Asianewsphoto]
JD.com, the second-largest business-to-customer e-commerce company in China, is to open a business operation center in Hangzhou, Zhejiang province, where Alibaba Group Holding Ltd, the country's No 1 e-commerce player, is located.
According to the official government website of Hangzhou's Yuhang district, deals were signed on as many as 10 projects with investment of more than 20 billion yuan ($3.28 billion) on Wednesday, all of which aim to set up businesses in the district.
Among the 10 projects, the Jingdong Zhejiang e-commerce operational center is financed by JD.com, said the website.
In the same district, Alibaba invested an estimated 1.36 billion yuan to build their headquarters, named Alibaba Taobao city, in 2009. The company officially moved to its headquarters in Yuhang in August 2013.
Sources said JD.com's investment in Yuhang district is about 2 billion yuan and revenue from the center is expected to grow to 20 billion yuan within three years after the project is completed, according to Shanghai Securities News on Friday.
JD.com's move signals an aggressive approach toward Alibaba and an ambition to build a stronger presence in South China.
It has been reported that the Beijing-based JD.com plans to move its East China headquarters to Yuhang and its investment in the district is an e-commerce base, including modern logistics facilities. At the moment, JD.com's East China branch is headquartered in Shanghai.
Don't miss:
Shareholder confirms investment talks between Tencent, JD.com
JD.com to grant credit to shoppers
JD.com 'softens' image for female customers
JD.com among first mobile virtual network operators
JD.com reports profit for first three quarters