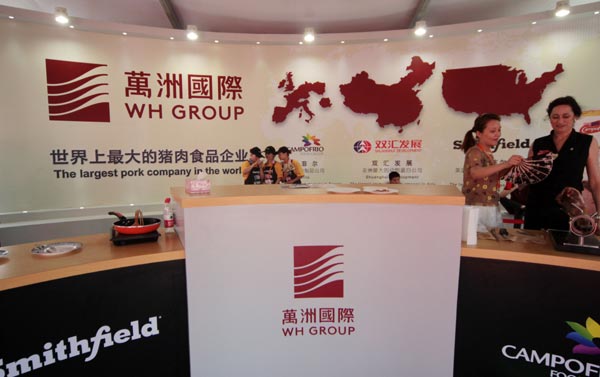 The booth of WH Group Ltd at the 2014 China International Meat Industry Exhibition, held in June in
Beijing
. [Photo/China Daily]
World biggest pork firm raises $1.9b in delayed HK initial public offering
WH Group Ltd raised more than HK$15 billion ($1.9 billion) in its second attempt to go public in Hong Kong, with the tranche for local retail investors oversubscribed by more than 55 times.
The world's largest pork processor received net proceeds of about HK$15.279 billion from its global fixed-price share offering of 2,6 billion shares at HK$6.20, the company said in a Monday statement to the stock exchange of Hong Kong.
The meat producer, previously known as Shuanghui International Holdings Ltd, will use the money to repay part of a three-year syndicated loan that matures on Aug 30, 2016.
That debt was incurred to fund its purchase of United States-based Smithfield Foods Inc last September.
While the share allocation for international investors was "moderately oversubscribed", Hong Kong retail investors sought 55.33 times the shares available to them. About 257 million shares were allocated to the city, representing 10 percent of the global offering.
The shares start trading on Tuesday.
At the end of April, the pork giant decided to postpone its listing because of a weak response from investors.
The successful offering was about 45 percent cheaper and 30 percent smaller than the original.
International underwriters have been granted an over-allocation (greenshoe) option, which is exercisable on or before Aug 28, the statement said. As a result, the company could issue an aggregate of 385.11 million additional shares, or 15 percent of the global offering.
"The offering is quite a success as the company scaled down both the offering size and price. WH Group is inexpensive right now and market sentiment has significantly improved. It should be fine in the short term. However, we are concerned about the company's performance in the longer run," said Stanley Chik, research manager of Bright Smart Securities & Commodities Group Ltd in Hong Kong.
"Previously, their selling point was the pork price premium between the US and China. However, because of an outbreak of disease, American pork prices have soared recently, and no one knows how long that will persist.
"So the model no longer stands, which raises questions over WH Group's profit outlook," he said.