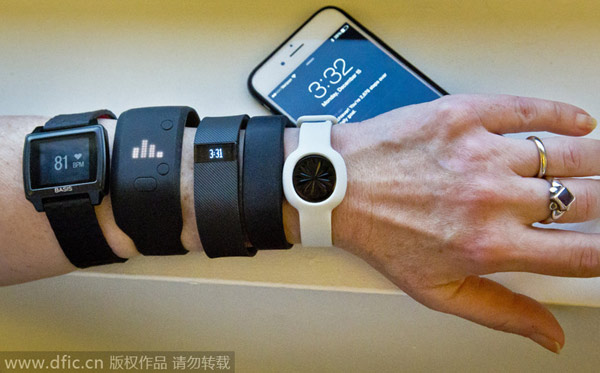 A man wears several fitness trackers in New York, Dec 15, 2014. [Photo/IC]
Wearable products see growth as more Chinese people embrace healthier lifestyle
Garmin Ltd, the world-leading manufacturer of GPS navigation and wireless devices, made its first foray into China in the automotive market. However, two years later it changed gear, finding immense potential in fitness and wearable products.
Zhou Ziyao, Garmin China's managing director, says the company did not initially believe the fitness and wearable products market in China would offer much potential for rapid growth as wearing watches was not even that common in the nation.
At the time the firm was also unaware of the prospects offered by sports and health awareness in China.
But, since Garmin introduced its health products to China in 2013, it has seen runaway growth.
Zhou explains that this was due to an increase in the nation's waistlines and blood glucose levels. As a result, people started to think more about getting exercise, such as riding a bike or jogging.
Consumer interest in jogging clothes, shoes and equipment now extends to wearable devices to help people to use their exercise data more scientifically, he says.
Effective wearable devices help people who are exercising run faster and prevent injuries.
"It is more than a record of your speed, but a record of your memory to help you achieve better results," he says.
"A good device will be able to tell you how long should you exercise for and when you need more rest."
Another use for such devices is to encourage joggers to compete with their peers by knowing where their friends are running and what their performances are like.
Garmin has enjoyed 100 percent annual growth in its fitness device sector, which has led it to become the second-largest unit of its business in China.
The company offers its products also on e-commerce platforms so it can reach more consumers. In addition, it has offered its products to local fitness enthusiasts to help them experience the benefits they offer.
In the future, Zhou says the company aims to get its products on display at more electronics retailers in shopping malls.
In 2015, the wearable products sector is forecast to achieve higher growth in the Asia-Pacific region, with industry analysis firm Canalys forecasting a total shipment of around 10.6 million units in the area, according to Jason Low, a research analyst at Canalys.
The push for smart wearable bands capable of running third-party apps will be more pronounced than that for basic wearable bands, with sales forecasts of 7.2 million units for smart bands and 3.4 million units for basic bands in the Asia-Pacific region this year, he says.