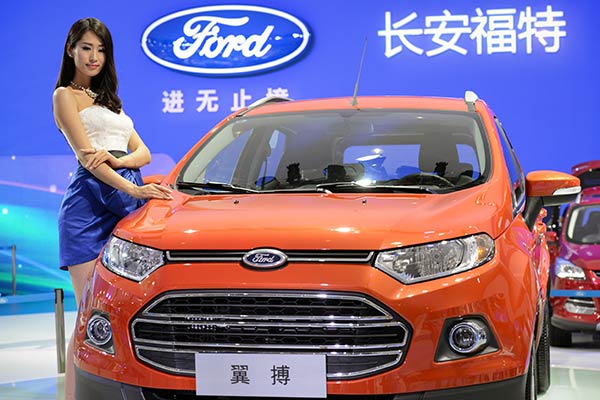 Changan Ford presents its product at the 2014 Auto Chongqing exhibition in June 2014. [ZHONG XIN/CHINA DAILY]
Changan Ford has set an ambitious goal for the Chinese market and wants to fulfill it by listening carefully to the voices of the country's car owners.
"We're aspiring to be among the top three car companies in China; the source of our energy and strength is our Chinese customers," said Marin Burela, president and CEO of the joint venture between Ford Motor Co and China's Changan Automobile Co.
Changan Ford ranked 8th in terms of sales volume in 2014. It sold more than 800,000 vehicles in the year, an 18 percent rise from 2013, almost three times the Chinese auto industry's average growth rate.
However, there remains a wide divide between Changan Ford and China's top three auto joint ventures - FAW Volkswagen, Shanghai Volkswagen and Shanghai General Motors - as each of them sold more than 1.7 million units in 2014.
Burela said he believes that meeting customers' demands will help narrow that gap.
"We have proven that by listening to their voices we will bring to the market cars that they truly value and want, and that's been the source of our success."
Burela said one of the marque's latest examples is the model Escort. Launched in late December in China, 18,800 units were sold in January. Thanks to its popularity, Changan Ford's January sales grew 19 percent year-on-year, he added.
Industry insiders said that performance gave the joint venture a head start in 2015 as the overall growth of China's auto industry is expected to slow this year.
A massive plan Ford initiated in 2011 is expected to continue its role of driving Changan Ford's performance. After all, the joint venture was ranked only 14th in 2012, and moved up six places in two years.
The plan - called the 1515 campaign - involves introducing 15 models into the Chinese market by 2015, with most produced at Changan Ford.
Since the plan was begun, Changan Ford has released a number of cars and SUVs into the market, changing the situation in which many equated Ford with Focus as it was one of few models available in the Chinese market for a long time.
Burela said things would get even better as the joint venture plans to further enrich its product portfolio this year.
A seven-seat SUV Edge and a sedan Taurus will be locally produced, in addition to the Escort that hit the market in January.
Ford's program also involves increasing the capacity of the automakers' local plants to 1.2 million units and opening 680 dealerships across the country by 2015.
Changan Ford expanded its capacity to 0.95 million units when its third plant was opened in Chongqing in the second half of 2014.
And the capacity goal will be realized when its Hangzhou plant, which has a designed annual capacity of 250,000 units in Zhejiang province, starts producing the SUV Edge later this year.
Changan Ford's sales network has also been expanding rapidly in the past years. Statistics show its number of dealerships hit 800 by the end of last year, more than double the figure in 2010, with many of the new agents located in smaller cities.