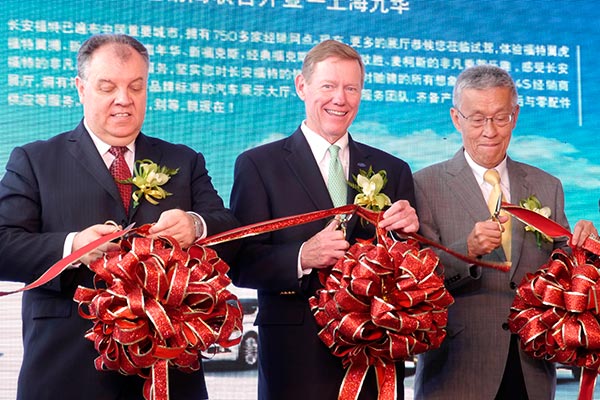 Changan Ford Automobile Co President Marin Burela (left), Ford Motor Company President and CEO Alan Mulally (center), and Taiwan Lioho Group President Tsung Chen-Dao cut the ribbon at the new dealership opening ceremony in Shanghai on June 19, 2014. [Hao Yan / chinadaily.com.cn]
Changan Ford is to target China's central and western regions with 88 new dealerships across the country starting operations, the company announced in Shanghai on Thursday.
Changan Ford Automobile Co Ltd brought the total number of dealer points in China to 750. Approximately one-third of Changan Ford's sales network is located in Central and Western China.
The Sino-US joint venture was established in April 2001 by the world's leading carmaker, Ford Motor Company, and the century old Chinese company Changan Automobile Co Ltd.
Changan Ford President and CEO Marin Burela said: "We expect to exceed 800 dealer points in China by the end of 2014."
The company is "committed to bring the latest vehicles, superior services and customer ownership experience through the professional, highly-skilled, customer-oriented dealerships," said Burela.
Ford Motor Co Global CEO Alan Mulally said that "each dealer plays an important role in the local community, by offering great jobs, contributing to the local economy."
All of Changan Ford's dealers are required to participate in extensive training and certification programs before opening. Changan Ford helps deliver major aspects of its technical training in partnership with 19 top vocational schools and universities across China through its "School to Work" programs.
The joint venture has sold 332,813 vehicles between January and May, which is 42.5 percent more than in the same period last year, and has manufactured 333,519, up 43.9 percent year-on-year, according to a report Chongqing Changan Automobile Co Ltd filed to the Shenzhen Stock Exchange last month.
Last year Changan Ford sold 678,951 vehicles, a year-on-year growth of 62 percent over 2012.
Changan Ford last year brought in about 84.2 billion yuan ($13.5 billion) in revenue and realized a net profit of more than 8.2 billion yuan, which is 156.24 percent more than the 3.2 billion yuan net profit in 2012, according to the Chongqing Changan Automobile Co Ltd 2013 Annual Report, filed in April.
"The swift development of the dealer network is a testament to the fact that we are steadily growing stronger. This would have been impossible without the concerted effort of our dealers and the vigorous support of our customers," said Luo Minggang, Changan Ford's executive vice-president.
"We will provide more Chinese consumers with high quality, green, smart products, better and more efficient services with more convenient access," Luo said.
Events were held in six cities - Shanghai, Dongying, Shenyang, Zhengzhou, Xi'an and Foshan.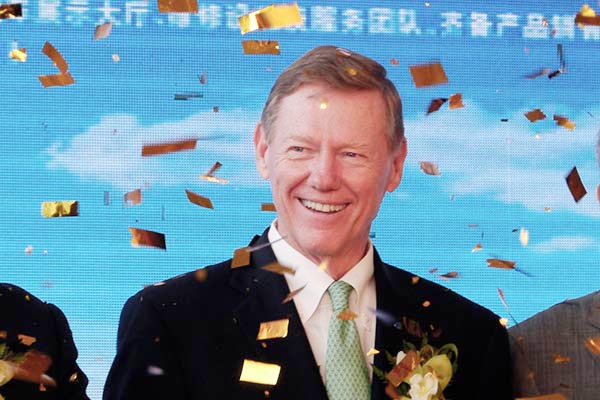 Ford Moto Co Global CEO Alan Mulally at the dealership opening ceremony on June 19, 2014. [Hao Yan / chinadaily.com.cn]