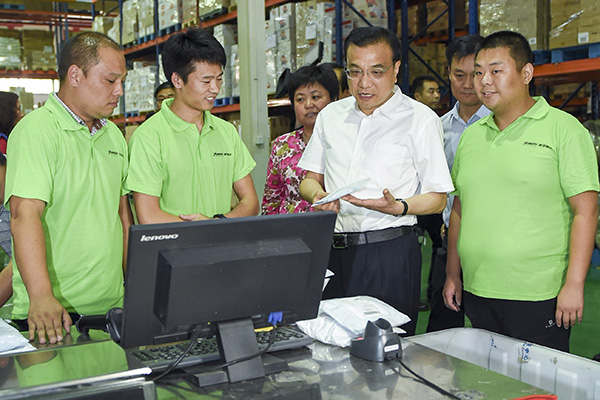 Premier Li Keqiang says strong logistics services are needed to support the e-commerce industry, during a visit to the Henan Bonded Logistics Center in Zhengzhou, Henan province, on Sept 24,2015. [Photo/Xinhua]
Nontraditional ways of doing business gaining momentum
New forms of businesses and emerging industries have great potential and will soon be able to match the traditional economic engines in China, Premier Li Keqiang said in a message of encouragement after visiting two e-commerce plants in Henan province.
It is the second time in two weeks that the premier has soothed concerns about the Chinese economy amid downward pressure. When meeting global corporate leaders earlier this month, he said there are ups and downs in the growth of the Chinese economy, but the momentum is still upbeat.
Li De, deputy manager of Jumei International Holding, a US-listed Chinese e-commerce company, said sales surged to 1.2 billion yuan ($188 million) in the first half of this year after the central government approved a bonded area in Zhengzhou, capital of Henan, to carry out cross-border e-commerce trade.
He said the company's revenues would multiply their value many times over through knock-on effects in related industries such as logistics and packaging.
Jumei is one of the companies in the Henan Bonded Logistics Center, the first cross-border e-commerce pilot in Central China. The center set up an online-to-offline shopping center in 2012 to encourage the development of cross-border e-commerce. The O2O business model uses an online presence to attract customers into a physical store.
Xu Ping, general manager of the commodity center, said cooperation platforms with overseas governments have been set up to attract well-known overseas brands.
"In this way, we guarantee the genuineness and traceability of our products," she said.
Xu said local governments have streamlined the customs and quarantine procedures to shorten the time from port to customer.
"Customs clearance procedures have been shortened from one or two days to 2 minutes.
"Our revenues in the first three months after opening have surged to more than 80 million yuan, more than the total revenues of the other five pilots in China," she said.
"The three factors in the development of cross-border e-commerce are demand, logistics and labor cost, and it's why the industry enjoys a stronger momentum in Central and Western China than the coastal area.