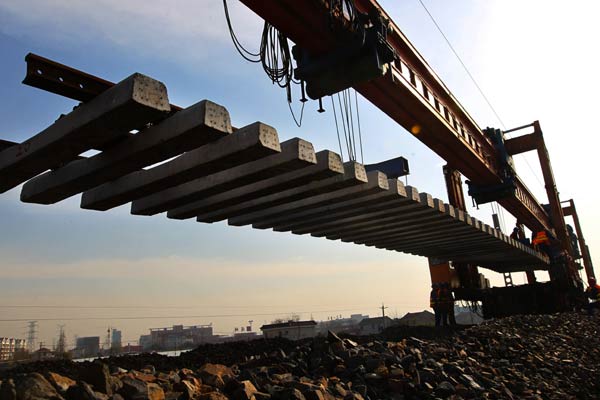 Rail tracks are laid on a route in Nantong, Jiangsu province. [Photo provided to China Daily]
China's top economic planner said on Tuesday that the government is confident of reaching its annual growth target of about 7 percent.
The comment came as two institutions lowered forecasts for China's growth. On Tuesday, the Asian Development Bank lowered this year's growth projections for the country, saying that growth in the first eight months had slowed more than expected.
The bank trimmed its GDP growth forecast to 6.8 percent for this year and to 6.7 percent for 2016, compared with March estimates of 7.2 and 7 percent respectively.
Jurgen Conrad, head of the economics unit at the ADB's China office, said a key factor behind the change was the delayed recovery in major industrial economies.
The fatal blasts in Tianjin last month and tropical storms had also held back activities in some key manufacturing centers in the third quarter.
On Monday, the Chinese Academy of Social Sciences, a top academic research organization, cut China's growth forecast for this year from 7 percent to 6.9 percent.
But Li Pumin, secretary-general of the National Development and Reform Commission, China's top economic planner, told journalists on Tuesday that China can maintain a reasonable economic growth rate this year.
"We are confident of achieving the annual target of around 7 percent," Li said, adding that inflation is likely to see a moderate rise in coming months, while the labor market will see stable expansion.
In the first eight months, new job opportunities increased by 9.52 million in urban areas, comprising 95 percent of the year's target, according to the commission.
Experts said this is one of the reasons that the government can tolerate slower GDP growth without aggressive stimulus measures.
Li said consumption and the service sector are expected to show faster growth, while the industrial sector, which is affected by overcapacity, may maintain weak growth of about 6 percent.
The commission will strengthen policy support for investment, including stepping up special bond issuance and expanding the debt-to-bond swap program, especially to boost infrastructure construction investment, he said.
The ADB report said that investment growth will continue to moderate, and the fastest-growing investment sector will continue to be infrastructure.