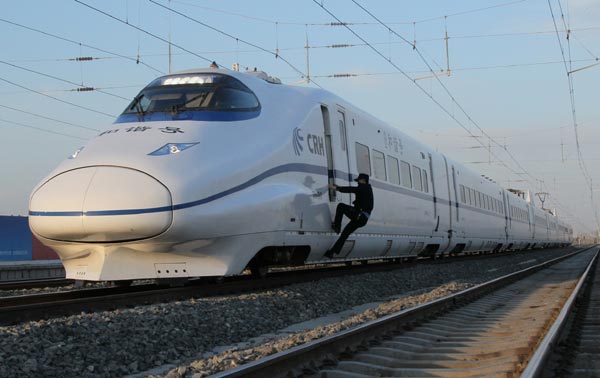 A driver enters a train cab for a trial run at the Harmi South Station in the Xinjiang Uygur autonomous region. [Photo/China Daily]
A consortium led by Chinese and Indian railway companies has been chosen to conduct a feasibility study on a 1,200-kilometer high-speed railway line between New Delhi and Mumbai, indicating that Chinese railway firms are making rapid strides in the lucrative Indian market.
The consortium, led by Third Railway Survey and Design Institute Group Corporation, a subsidiary of China Railway Corporation, beat 11 consortiums from countries including Germany, France and Italy in the bidding process, CRC said in a statement on Wednesday.
"Chinese railway companies are competitive in terms of advanced technology, reliability and better price ratio," said the statement.
In December, the Indian Railways floated a tender seeking consultants for an engineering feasibility study on its three proposed high-speed rail links-New Delhi-Mumbai, Mumbai-Chennai and New Delhi-Kolkata.
Though the feasibility study is just the first step in what could be a long drawn-out process, Chinese companies are confident that their rich domestic experience will help in winning the final bid for the high-speed rail project.
China has built an impressive high-speed railway network of about 17,000 km, accounting for more than 60 percent of the world's total.
The Indian award comes as the contest between China and Japan is heating up for a high-speed rail project in Indonesia.
Indonesia's Coordinating Minister for Economic Affairs Darmin Nasution said on Thursday that the government may consider proceeding with the high-speed railway project, withdrawing an earlier decision on the cancellation of the project.
Experts said the battle in India's high-speed rail market is becoming increasingly vital for China Railway Corporation and may pave the way for other rail projects if it wins the bid.
Wang Mengshu, a tunnel and railway expert at the Chinese Academy of Engineering, said that Chinese high-speed rail technology is very mature and can cater to the diversified requirements of various countries.
"Chinese high-speed rail makers can provide lower prices than its rivals, and with rich experience in overseas railway construction, they can deliver the project in a shorter time," he said.