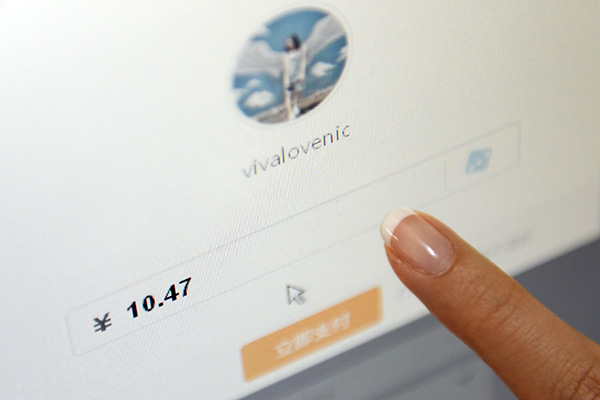 An Internet surfer uses online "tipping" system to give cash to a writer. [Photo/China Daily]
Imagine writers making a living like a street musician: after reading an article, readers tip the author if they like it.
I laughed at the idea when several online publishers recently began to introduce a "tipping" system for readers to give cash to writers, as a marketing ruse to get more eyeballs.
It works like this: after reading an article posted by a writer, users can click on the "praise" button and then make donations using "Pay" or "Wallet" payments.
But while the system helps thin-skinned writers earn some income without seeing the patrons, it defies the traditional Chinese psyche that information on the Internet should be free and getting readers to pay for the content by the piece has long been an elusive dream for media providers.
Skeptics like me also worried about the future of the Chinese literature that is thriving on market-driven entertainment, including mystery, ghost stories, fairy tales, time travel and romance. If the "tipping" model gains traction, there could be fewer great Chinese writers dedicated to a more serious approach to writing, like Mo Yan, a Nobel laureate in literature who prefers writing by hand rather than on the computer, because he feels "painful" searching for words with hanyu pinyin input on the computer.
So I was shocked and had to think about it again when I saw an enthusiastic response from both readers and writers to what I considered to be a ridiculous and demeaning plan. Sina Weibo, one of the Internet companies that offered this service, said that tips totaling 50 million yuan ($7.84 million) had been generated for the first year since June 2014 when it was launched.
The company claimed that thousands of writers have joined its scheme. Tips averaged more than 20,000 yuan for each of them in the first year, with the highest payments for a single extremely popular post adding up to a whopping 1.03 million yuan.
Readers donate cash from several yuan to thousands of yuan and appear to be more interested in topics that are close to their lives. While it is usually the upbeat songs that get tips for street buskers, finance and investment, sports and literary works are the most popular genres that get readers to open their purses and wallets electronically.
The recent Internet bubble and burst in China have prompted thousands to pay for articles that they thought were wise and useful. They have also influenced the writing style of bloggers as they favor those authors who have strong arguments and get to the point quickly, which is not a bad thing for the ancient craft.
While more authors are encouraged to create more and better original content, a boon for both readers and Internet companies, there is even a positive spin on those who take a step beyond the street musicians by personally entreating a tip.