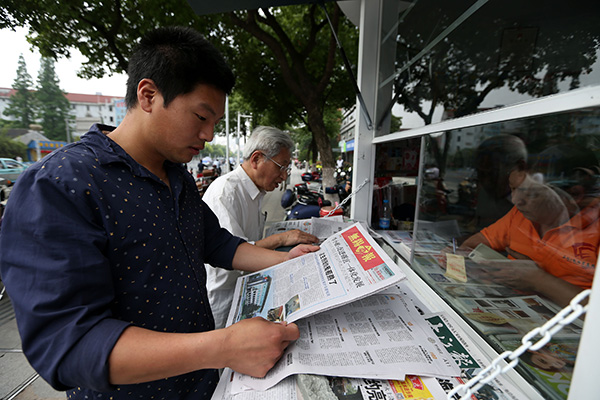 Customers browse newspapers at a newsstand in Wuxi, Jiangsu province. [Photo provided to China Daily]
Chinese philosopher and sage Confucius termed the age of 30 as a period of intellectual maturity, as it signifies that the person has his "feet firmly planted on the ground". But for the Shanghai Business Daily, which turned 30 recently, the experience proved to be a bitter one as it saw the ground under its feet being swept away by a tidal wave.
What took most of us by surprise was that there were no visible signs of the troubles at the publishing house, until it made an announcement in late August that it was shutting shop from September onwards. For many of us, Shanghai Business Daily was a beacon of sorts as it was the first traditional media outlet in China that introduced a joint-stock system.
On a personal note, the news came as a shock as the venerable publication housed several friends, many I could count on for my professional requirements.
I considered one of them my best friend and mentor. It was she who kept me going when I used to lament about the onslaught of new media. She was not only sharp, knowledgeable and prolific, but quick to reassure me that I was not alone.
I have not been able to reach my friend since Shanghai Business Daily closed its doors. Though I knew her for about six years, I never had her WeChat contact or any other details. It was almost like an entire chapter/era being wiped clean.
Close on the heels of the Shanghai Business Daily announcement came another bombshell. Industry pioneer Southern Metropolis Daily said it was letting go of all its sports reporters and transforming the editorial department into a public relations firm.
The plague did not end there. The Shanghai Youth Daily, another industry pioneer, announced on August 28 that its parent Shanghai Youth Media Co Ltd had filed for bankruptcy protection.
Last year, nearly 20 print media ceased publication in China, or said they were shifting to digital versions. But on the other hand, nearly 15,000 new WeChat accounts are born every day, with the total number estimated to have reached 10 million by May this year.
There is no doubt that most of my peers are glued on to their WeChat accounts. They are obsessed with the number of registered readers, clicks for a story, and the secret of making a blockbuster. Above all, they are talking about the possibility of attaining instant fame, which will lead to commercials, endorsements, and more money.
There is nothing wrong in aspiring youngsters wanting to make more money in a cosmopolitan city where property prices are rocketing and living costs soaring. Though several people are frequently changing jobs in their quest for better prospects and money, it is important to spare a thought for those who have spent donkey's years in their chosen profession.