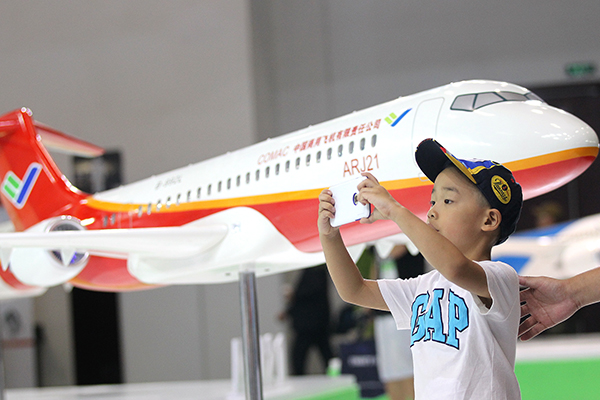 An ARJ21 model on display at the 2015 China Aviation Expo, which opened on Sep 16,2015 in Beijing. [Photo/China Daily]
State-owned aircraft maker says agreement to enhance its chances for overseas orders
State-owned plane maker Commercial Aircraft Corp of China Ltd has signed an initial agreement with lessor ICBC Financial Leasing Co to lease 10 ARJ21 regional jets and 10 of its C919 single-aisle commercial jets to Thai airline City Airways.
The deal was announced on Wednesday at the 2015 China Aviation Expo in Beijing. Financial terms were not disclosed.
The Bangkok-based carrier, established in 2011, has become the 21st client for C919, the China-made 160-seat passenger airplane, and the 20th client for ARJ21, the domestically made regional jet with 70 to 90 seats.
City Airways, which operates four Boeing 737 aircraft on some domestic routes in Thailand and routes to China, expects to receive the first ARJ21 in June 2017. It still needs at least one year after the purchase for the aircraft to get the necessary certifications from the civil aviation authorities in Thailand.
"The China-made airplane is ideally suited for the airline's expansion in Thailand and nearby regions," said Yan Zexin, chairman of City Airways.
Yan, who hails from China, said that though he operates a foreign carrier, he still would like to provide an international platform for Chinese aircraft. The China-made aircraft will also resolve an urgent problem for City Airways, since it cannot get early delivery slots from Airbus SAS or Boeing Co, Yan said.
The first batch of two ARJ21 jets will be delivered to the first client on Nov 28, and the aircraft has got more than 300 orders at present.
ARJ21 already has a 10 percent market share in the global aviation market for planes with less than 130 seats, according to Embraer SA, which has a 52 percent market share in the same segment.
Tian Min, chief financial officer of COMAC, said: "We will explore the international market with our clients and partners."
C919, COMAC's other product and the first China-made large passenger aircraft, is expected to roll out by the end of this year. However, its maiden flight and delivery timetable have not been finalized yet, COMAC said.
COMAC has 514 orders from domestic and foreign clients. ICBC Financial Leasing, a subsidiary of Industrial and Commercial Bank of China Ltd, is the largest lessor for C919s with 45 orders. The company also provides financing solutions for other C919 clients.
Cong Lin, chairman of ICBC Financial Leasing, said: "We are keen on supporting domestically made airplanes through financial leasing, and City Airways' orders show that the international market is receptive to China-made aircraft."