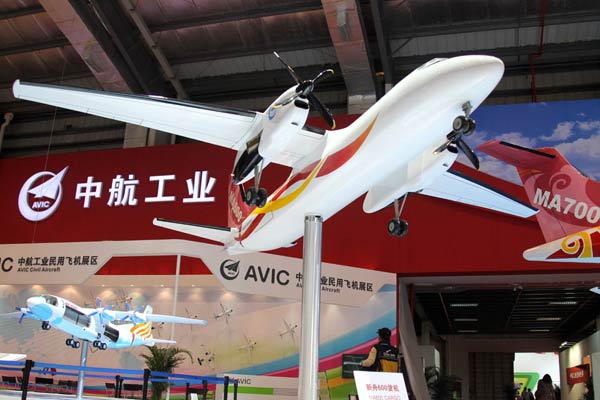 An AVIC aircraft model on display at a recent exhibition in Zhuhai, Guangdong province.[Provided to China Daily]
The footprint in Africa of the Aviation Industry Corporation of China has grown as its presence has expanded in 10 national markets, with its products used by flag carriers, government operators and others.
The latest big push was during the 10th China International Aviation and Aerospace Exhibition, held in November in the southern port city of Zhuhai, Guangdong province.
There, a deal for delivery of three Chinese-built ARJ21 planes was sealed by the Republic of Congo, also known as Congo-Brazzaville, the first African country to order the new plane.
ARJ21 is short for Advanced Regional Jet for the 21st Century, a new, twin-engine turbofan for a short- to medium-range jet. The plane is built by the Commercial Aircraft Corp of China Ltd, in which AVIC is a major shareholder.
Congo's Ministry of Transport signed a purchase agreement for three ARJ21-700 aircraft, including two regional jet models and one business aircraft.
The ARJ21, a 90-seater, can easily connect Dar es Salaam with Johannesburg and Addis Ababa. Some 250 orders have been placed for the aircraft around the world.
The ARJ21 is expected to be delivered to its first internal customer in China by the end of this year, and will begin to be delivered to foreign customers by the end of 2015.
"The total number of AVIC aircraft operating in the African continent is more than 400," says Xue Hang, director of the civil aircraft division of AVIC International Aero-Development Corp, a sales and service provider wholly owned by AVIC.
Xue says AVIC has customers in Tanzania, Kenya, Zambia, Egypt, Cameroon, the Republic of Congo, Zimbabwe, Burundi, Sudan and Senegal.
Xue says the event was successful not only for AVIC, but "the name of African airlines was displayed in this air show as well". The show included 700 exhibitors from 41 countries.
Xue says that there are also several Chinese-built Y12 aircraft serving in the Tanzania Air Force and experts believe that it is very suitable for civil air transport there, especially for short and low-frequency routes and remote airports.