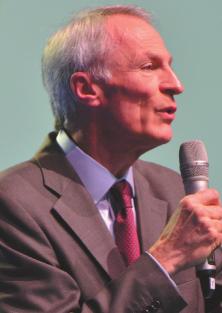 Jean-Dominique Senard, CEO of Michelin Group
Road accidents, pollution, climate change and congestion are among the crucial challenges of modern life.
Statistics show that by 2050, there will be 2.5 billion more people on the planet and 70 percent of the world's population will live in cities, compared with 50 percent today.
To develop a shared vision of sustainable mobility and work out concrete solutions to generate real benefits for people, companies and society, French tire maker Michelin brought its 12th Challenge Bibendum to Chengdu this year, making China the first country to host the event three times.
During the five-day event in November, several thousand representatives from political, industrial and scientific spheres shared and discussed ideas as they put forward sustainable solutions.
"No one company can single-handedly provide a comprehensive solution to the many challenges of future mobility," said Jean-Dominique Senard, CEO of Michelin Group.
"Issues such as climate change, traffic congestion, transport accessibility and safety require the coordinated efforts of all stakeholders."
In the first Challenge Bibendum in 1998 held with the support of a large number of stakeholders in the road transport industry, Michelin aimed to promote safer, cleaner, more cost-effective and more comfortable mobility by providing information to decision-makers in politics and industry.
Over the years, the challenge has gradually emerged as a forum for all mobility sectors, with this year's event involving more players in the energy and IT industries. Along with drivers, carmakers, suppliers, public and private operators, universities, research institutes, political leaders and NGO representatives, they explored some of the major challenges facing China.
One of the highlights of the event was the release of a "Green Paper" devoted to priority actions for sustainable mobility.
Focusing on five game changing initiatives, the paper has been handed over to State Council.
It suggested setting ambitious global medium and longterm CO2 emission reduction targets for all human activities, and implementing economic instruments suited to the transportation sector.
Creation of ultra-low emission zones, which will also be high road safety zones in large cities, is needed, said the paper.
It also calls for providing creative solutions to transport people door-to-door that complement current station-to-station services. The move would strengthen social ties and offer more potential for innovation, in particular by those in customized Internet applications.
It also appeals for a reinvention of last-mile delivery logistics, an economic sector destined to grow considerably, said the paper.
And the last game changer is promoting private investment in innovative transport infrastructure and mobility services.
"Because the need for mobility will necessarily increase and the challenges involved are already immense, we need to focus on broad, coordinated deployment," said Senard.
He told China Daily that all the proposed game changers fit China's current situation.
"The government's recent bans on vehicle purchase and usage are short-term solutions that cannot effect sustainability," said Senard. "The Chinese government agrees with the ideas we raised in the Green Paper. We both will further discuss the cooperation and actions in the future, for a sustainable mobility."
Keep innovative
While the Michelin Challenge Bibendum Global Summit gathered experts and decision makers in mobility, "we must always remember that mobility should not be a hassle-it should be fun", said Patrick Oliva, Michelin Challenge Bibendum director.
For the first time the international event challenged automotive design students from some of the best Chinese universities to design vehicles that would both meet the Green Paper's recommendations to reduce urban pollution and congestion and keep the fun in mobility.
The tire maker outlined its "Michelin Solutions" commitment to efficiency targets.
Backed by a firm belief that the emergence of new services today plays a key role in the development of mobility, Michelin said the personalized, high-performance solutions enable customers to improve safety, energy efficiency and output.
Begun last year, Michelin Solutions provided professional truck fleet operators with its extensive expertise to help them reduce their costs and environmental impact at every stage of their operations.
The company said it is considering bringing the service to China to help logistics companies with efficiency.
Michelin also presented its Selfseal tire at the event, which is made with a unique rubber compound that immediately plugs puncture holes in the tread.
Designed for passenger cars and delivery vehicles, they can drive over nails without deflating, making flats and breakdowns a thing of the past.
On average, tires puncture once every 75,000 km in European countries but once every 3,000 km on roads in certain Southeast Asian countries. Given the tremendous growth in the number of cars on the road in China, the use for such an innovation is clear, said the company.