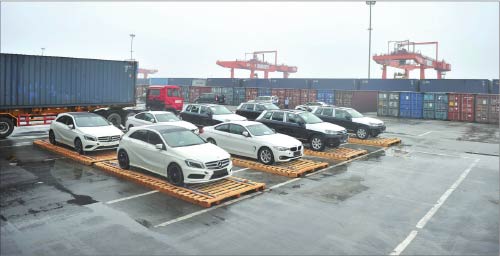 Cars imported from Europe are unloaded at the Chongqing Railway Station. Vehicle imports are projected to grow about 10 percent next year.WANG ZHENGWEI/FOR CHINA DAILY
Report: Oversupply and local production dampen demand
Vehicle imports will likely decelerate in China as the economy slows and dealers attempt to move out existing oversupplies of inventory, said a report by one of the country's largest auto wholesalers.
Growth in imports will fall to about 10 percent in 2015 from an estimated 15 percent this year, according to the report from Sinomach Automobile Co.
Even single-digit growth is possible if some popular models are localized sooner than scheduled, said the report.
The estimates are based on China's slowing economy, a series of auto industry policies and excessive supplies in the imported auto market, said the report released at the annual China Imported Auto Forum in late November.
Supplies have outgrown demand since 2012, said Sinomach Automobile's chairman Ding Hongxiang.
Due to international automaker's soaring sales goals, dealers have been forced to import more than they can sell for the past two years, he explained.
The latest statistics show that China imported 1.05 million vehicles in the first 10 months of 2014, a 26.2-percent rise year-on-year, while 980,000 were sold in the same period, up 20 percent.
Though the number of unsold vehicles fell sharply in September compared to June, many insiders attributed much of it to discounts dealers are offering to customers.
Statistics show that imported vehicles sold in September were 54,000 yuan cheaper than the showroom sticker price. That means an 8-percent discount for all vehicles and a nearly 13-percent for cars, resulting in more financial pressure on dealers and slim profit margins.
Many dealers said they have no choice but to cut their inventory by offering deeper discounts.