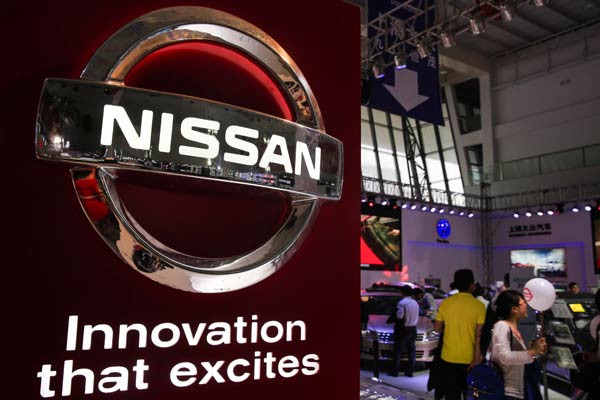 Nissan's sales in China grew just 1.7 percent in the first 11 months. Slow to introduce new models to meet the needs of increasingly sophisticated Chinese consumers, Japanese brands had a 14.21 percent share of the market by the end of October, down from 30 percent in 2008. [ZHANG HAIYAN/CHINA DAILY]
Share continues to slip in world's most competitive auto market
The New Year is around the corner but Japanese automakers are probably in no mood for celebration after their lackluster 2014 performance in the Chinese market.
Nissan's sales in China increased just 1.7 percent year-on-year in the first 11 months, while Honda slipped 1.4 percent in the same period, according to Japan's Kyodo News.
Toyota sold about 900,000 units by November, a 12.2 percent rise, but its full-year sales goal of 1.1 million units seems impossible, said the report.
Statistics show Japanese brands sold a combined 2.41 million vehicles by the end of October, a market share of 14.21 percent in the country's passenger vehicle segment, while German automaker Volkswagen alone delivered 2.29 million cars to Chinese customers in the same period.
Japanese automakers have almost completely lost the advantage in important segments like mid-sized sedans and SUVs where they used to lead, said Zhu Bin, a senior market analyst of LMC Automotive, in an interview with China Daily.
Many believe one of the important reasons in the decline is that Japanese automakers were slow to introduce new models to China at a time when consumer enthusiasm for new products is increasing.
At the same time major competitors are making inroads into the southern market traditionally dominated by Japanese carmakers, said Zhu, citing the example of Volkswagen's plant in Guangdong province.
Zhu noted that Japanese brands are not ready to start a large-scale counterattack at the moment, so they can concentrate on defending their current share by doing a good job in compact and small car segments.
Auto analyst Zhang Zhiyong said a good sign is that Japanese carmakers have realized their slow response to customer demands and are now starting to accelerate introduction of new products.
Toyota unveiled the Levin earlier this year and plans to offer its hybrid version in 2015. Mazda will localize production of its new Atenza in China.
Despite the efforts, many doubt whether Japanese brands will soon recover their popularity. They had a 30 percent share of the Chinese market in 2008 but the percentage has since shrunk, especially after a series of diplomatic rows in recent years.
Chinese automakers are not short of problems either, although their 12-month fall in market share in China's passenger car segment ended in September.
Industry insiders said the advantage in price tag for local brands is shrinking now that many joint ventures have rolled out cheaper models.
In addition, many buyers in big cities are more inclined to purchase more expensive cars due to city government measures controlling new license plates.
Also, more than 80 percent of Chinese-brand owners plan to switch when they buy a second car, a Boston Consulting Group survey revealed.
Xu Changming, a senior auto researcher at National Information Center, said Chinese automakers must improve the quality of their products if they want to survive.
Most Chinese customers have gone through the stage of low price and low quality and there is an urgent need for improved quality as many more people in the country will soon trade up for a new car, said Xu.
Yin Tongyue, president of Chinese automaker Chery, said "many local carmakers pursue sales and profit at the cost of quality".
"That will result in a vicious cycle and such carmakers will not succeed in the long run," said Yin.
"We at Chery shifted our focus to quality in 2010 when we had superb sales and many said we must be crazy. In fact, we realized then that improved quality is the only way out for Chinese brands."
Zhao Fuquan, an automotive engineering professor at Tsinghua University, said Chinese automakers should make quality their top priority.
"They should take it seriously. Otherwise there will be no chance for not only Chinese brands but China's manufacturing industry as a whole."