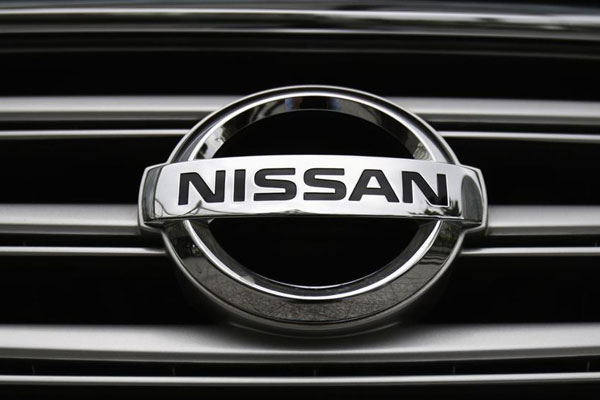 The logo of Nissan Motor Co is pictured on a vehicle at the company's showroom in Yokohama, south of Tokyo, May 12, 2014. [Photo/Agencies]
Nissan Motor Co cut its full-year global vehicle sales forecast on Tuesday, hit by an economic slowdown in China even as strong US sales allowed it to keep its profit targets steady and nudge up its revenue estimate for the year to March.
Nissan, the most exposed of Japan's automakers to the Chinese market, said its vehicle sales in China fell 12 percent in the July-September period and cut its full-year sales forecast for the world's biggest auto market to 1.27 million vehicles from 1.43 million, an 11 percent drop.
"In China, the general weakness in the LCV (light commercial vehicle) segment and increased competition in the compact car segment, as well as the persisting negative impact from political tensions on Japanese brands, hurt sales," Nissan Chief Competitive Officer Hiroto Saikawa told a briefing for reporters.
Nissan operates a car venture with Dongfeng Motor Group Co Ltd in China, where anti-pollution regulations and slowing economic growth have weighed down sales of passenger cars and commercial vehicles.
For its second quarter, Japan's No 2 automaker reported operating profit of 139.34 billion yen ($1.20 billion), up 22.4 percent from a year before and beating the 130.67 billion yen average estimate of 12 analysts polled by Thomson Reuters I/B/E/S.
Generous incentives helped to boost Nissan's US sales 13.7 percent for the quarter and it raised its North American auto sales forecast to 1.81 million vehicles, up 3 percent from the prior forecast. Automakers reported their strongest October US sales in a decade with a lift from rising consumer spending and lower gasoline prices.
That helped to offset weakness in Japan, where a sales tax hike in April dampened consumer sentiment and hurt sales.
Nissan also got a boost from a weaker yen, although it benefits least among Japan's automakers from currency effects after shifting much of its output overseas.
Saikawa said the yen was now in a "good range" and its weakness was bolstering Japan's industry and economy, despite some concerns that its falling value against the dollar could pose problems by boosting fuel and raw materials costs.
The dollar broke above the 113 yen mark this week for the first time since December 2007 after Japan's central bank expanded its economic stimulus measures in a surprise move last Friday.
Shares in Nissan ended up 3 percent ahead of the earnings announcement, in line with a 2.7 percent rise in Tokyo's benchmark Nikkei average, N225.
The stock, which is up 16 percent so far this year, has outperformed rivals such as Honda Motor Co Ltd which is down 18 percent and Toyota Motor Corp which is up 6 percent. Toyota reports second-quarter earnings on Wednesday.