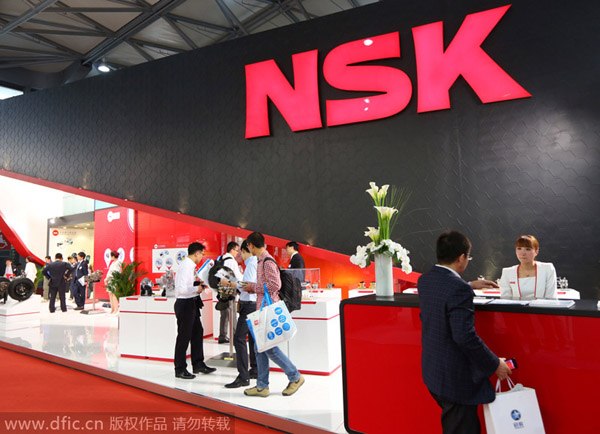 People visit the stand of NSK during the 15th Shanghai International Automobile Industry Exhibition, also known as Auto Shanghai 2013, China, April 25, 2013. [Photo/IC]
China's antitrust regulator is expected to announce penalties for 12 Japanese auto suppliers for collusive conduct as early as Wednesday, according to sources.
This comes as two Japanese auto suppliers disclosed on Tuesday fines imposed on them by the National Development and Reform Commission.
The suppliers are expected to face record fines for several horizontal-pricing agreements-concerted actions and agreements between actual or potential competitors-the most serious type of antitrust conduct, the sources said.
Media reports said the fines imposed on the suppliers would total more than 1 billion yuan ($162 million).
The commission said this month it had completed an investigation into 12 Japanese companies and would punish violators. The Anti-Monopoly Law allows the government to fine companies up to 10 percent of their annual revenue.
On Tuesday, two of the 12 auto suppliers, NTN Corp and NSK Ltd, announced the fines imposed on them, the first of the companies to do so.
NTN, a bearings producer, said it must pay 119.2 million yuan for monopoly behavior in the Chinese market, while its rival NSK said it must pay 2.9 billion yen ($28 million) in fines.
Cui Dongshu, deputy secretary-general of the China Passenger Car Association, said that parts manufacturers from Japan had taken a leading position in the global supply chain,
According to US weekly Automotive News' world top 100 suppliers for 2013, Japanese brands led the list with 29 companies, ahead of rivals from Germany and the United States. Only one Chinese company made it on to the list.
Chinese research institute Zero Power Intelligence said that last year 27 percent of imported auto parts came from Japan, with a total value of $9.58 billion. Key parts, such as gearboxes and clutches, comprised 45 percent of the total.
Explaining why regulators widened anti-monopoly investigations from automakers to suppliers, Cui said, "Japanese automakers have much closer ties with parts suppliers.
"It's hard for Japanese automakers to make high profits through a monopoly, as they are not market leaders. However, another way is to join hands with parts makers that have a say in the sector."
Mei Songlin, general manager of the Beijing branch of the Nomura Research Institute, said most Japanese suppliers are also victims as many are partly owned by the automakers, who have a dominant say in their supply system.
"It is not necessary for auto companies to overreact to antitrust investigations. Antitrust scrutiny won't deprive them of reasonable profit margins," Mei said.