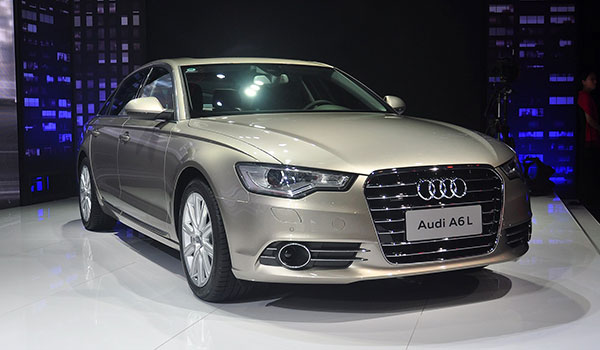 Audi admitted it had violated the monopoly law and auto insiders estimate it may have to pay a fine of at least 1.8 billion yuan. Provided to China Daily
Although the Chinese government launched antitrust investigations of only Audi, Chrysler and 12 Japanese spare parts companies, the move has caused tremors among foreign car brands.
Prices have been cut, starting with Jaguar Land Rover on July 25 and continuing with other imported or premium brands.
BMW said it would reduce parts prices by 20 percent starting August 11, Mercedes-Benz announced a drop in parts prices of 15 percent as of September, and GAC Toyota and GAC Honda also announced cuts in the prices of some parts. And the domino effect continues.
Audi admitted it had violated the monopoly law in an Aug 11 statement, and auto insiders estimate that the company may have to pay a fine of at least 1.8 billion yuan ($292 million), equivalent to 1 percent of its revenue last year.
Dong Yang, secretary-general of the China Association of Automobile Manufacturers, says the association applauds the antitrust probes into luxury brands because they were earning ridiculously high profits and it should be corrected.
Although foreign premium brands often blame high tariffs and taxes, the prices they were charging in China were far higher than taxes would justify.
For example, the luxury com-pact SUV BMW X3 is sold for 300,000 yuan in developed markets, while in China the price is 900,000 yuan.
After adding in the import tariff (25 percent), the value-added tax (17 percent), and the consumption tax (varies by cylinder size), the price should be lower than 550,000 yuan.
The extra 350,000 yuan has been revenue that has gone to the dealers in China, experts say. Dong says the investigations can curb the prices of imported and premium cars and help create a fairer market.
"It is legitimate for companies to chase after profit, but they should seek a balance between the margin and the consumer," Dong says.
Dong is a former general manager of BAIC, a major auto-maker based in Beijing, which has subsidiary joint-venture companies, BAIC Hyundai and BAIC Mercedes-Benz.
He recalls that during his term, he found dealers preferred selling imported Mercedes to joint-venture cars "simply because they got more commission by selling imported cars". Some Western media have responded with accusations that China's investigations are a new kind of protectionism that aims to help domestic automakers. But Dong says that the price cut won't change these brands' premium status, as these cars are still much more expensive than most domestic cars, even after price cuts.
Shi Jianhua, deputy secretary-general of the auto manufacturers association, says the investigation may even hurt Chinese brands since "the value of premium cars will increase after price cuts, and it encourages customers to trade up for better models".
Figures from the association show that from January to July, the market share of domestic brands was 37 percent, down 3 percentage points from the same period last year. At the same time, foreign brands took in about 80 percent of the profits generated by the industry.
Analysts warn customers that the price cuts are just the companies' way of trying to avoid a big fine, so they shouldn't celebrate too soon.
Based on China's anti-monopoly law which came into effect in 2008, companies ruled to be monopolies face a fine ranging from 1 percent to 10 percent of their revenue from the previous year.
"Companies cooperate with the government so they can avoid the heaviest penalty," Shi says.