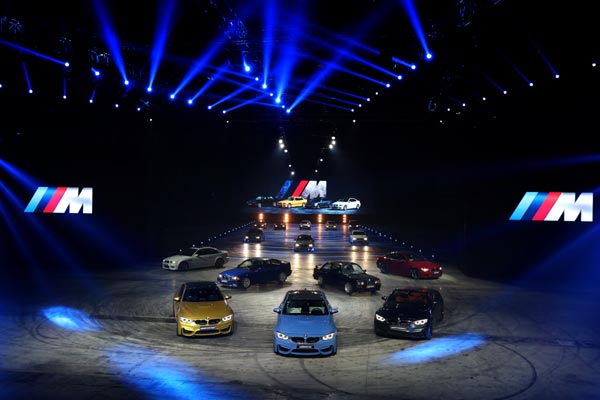 BMW brought its fifth generation of M models to Chinese consumers on Aug 21 along with a driving show in Shanghai. Photos Provided to China Daily
In China, people say "drive a BMW and sit in a Mercedes-Benz".
Reinforcing that sporty DNA, BMW brought its fifth generation of M models to Chinese consumers on Aug 21 along with a driving show in Shanghai.
The M3 sedan, M4 coupe and M4 convertible officially hit the market with price tags of 998,000 yuan, 1.027 million yuan and 1.13 million yuan.
"The four previous M3 generations represent the core of the BMW M and are our famous icons today," said Albert Biermann, vice-president for Engineering at M Automobiles and BMW Individual.
"Every M3 generation has been very successful on the race track and on the street, leading their segments in all markets globally."
Karsten Engel, president and chief executive officer of BMW China, said "bringing the ultimate driving pleasure within an emotionally sporty concept is the permanent pursuit of M3".
"Today, after nearly three decades, the all-new M3 and M4 coupe, and M4 convertible, are set to extend the legend into the fifth generation and take the car's unique combination of outstanding dynamics and uncompromised everyday usability to yet another new era."
According to Biermann, compared to their predecessors, the most important breakthroughs for the new M3 and M4 are faster speeds on the race track, lighter weight and greater fuel efficiency while retaining their benchmark position in overall concept balance, precision and agility.
The high-revving six-cylinder in-line engine with M TwinPower Turbo technology newly developed for the latest BMW M3 and M4 coupe produces a remarkable 431 hp.
Its peak torque of 550 Nm is available across a wide rev band and outstrips the figure recorded by the outgoing BMW M3 by roughly 40 percent. Yet the engine also achieves a reduction in fuel consumption and emissions of around 25 percent.
It all enables the M3 Sedan and M4 Coupe to sprint from 0 to 100 km/h in 4.1 seconds.
In the interests of maximizing dynamic ability and ensuring excellent efficiency, weight savings of around 80kg have been achieved over a comparably equipped predecessor model.
It was done through increasing use of lightweight materials such as carbon-fiber-reinforced plastic and aluminium for a number of chassis and body components. Indeed, both models feature a carbon roof.
"All M3 generations followed the BMW M philosophy, the same BMW M DNA was established with the BMW M1 super sports car in the 1970s, so does this new one," said Biermann.
He said the M philosophy is to bring the excitement and technology of racecar driving into every day's driving, and make the highly emotional driving experience of BMW racecars available for BMW customers worldwide at the ultimate BMW quality level, enjoyable every day on the road.