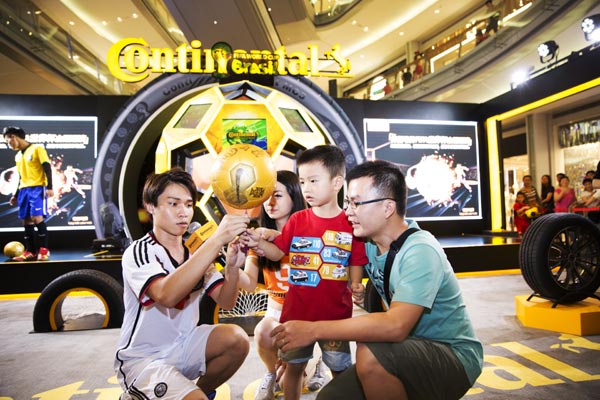 Customers at a Continental tire promotion event in Shenzhen. [Photo/China Daily]
Tire firm to open new test center, enter OEM business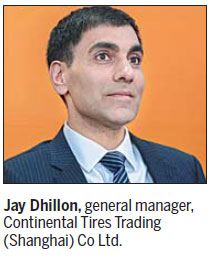 Jay Dhillon is the only expat in his company, Continental Tires Trading (Shanghai) Co Ltd.
"To win in this market, localization is the most important thing. I believe Continental Tires is one of the most localized foreign companies in China," said Dhillon, general manager of the company.
"Our plant in Hefei, Anhui province is mostly local and it provides about 90 percent of all Continental tires in the China market and we want to keep increasing this," said Dhillon. "It's not easy for such a young company."
To further increase the company's localization in terms of product research and development, Continental plans to open a testing center in Hefei later this year. The move will allow the German brand to test locally produced tires much faster, as they will no longer be sent to its headquarters in Hanover.
Continental Tires brought its passenger vehicle and light truck tire businesses to China in 2006, more than 10 years after its rivals Michelin and Goodyear.
However, the company quickly became one of the market leaders by virtue of its advanced technology, reliable quality and localization efforts.
"During the past two years, we have significantly over-performed, doing four to five times more than what the market did. Although we don't expect the same speed Continental will definitely continue to over-perform in the future and we expect to gain more of the market share and provide more jobs," said Dhillon.
He said he expects China's replacement tire market to grow by close to 10 percent year on year in 2014, and continue that rate for the next five years.
"About 16 to 17 million passenger vehicles are sold in China every year and more car owners will have to replace their tires in the near future. Even if the cars are not driven as much because of public transportation they still need to change their tires and this will buoy the replacement market," he said.
Continental has started to establish dealerships in coastal cities and has expanded its distribution network to all provinces, with more than 4,000 authorized dealerships.
"For the next five years, we will try to open 600 stores every year and will be more quality-oriented," said Dhillon.
Continental has 18 BestDrive flagship stores across China, which are three to four times the size of their normal shops.