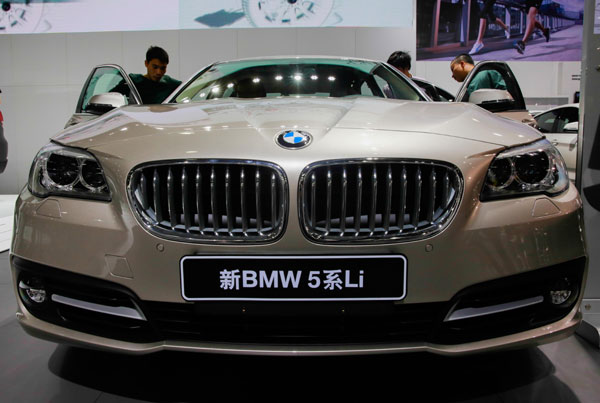 Potential buyers examine BMW cars at an international auto exhibition held in May in Nanchang, capital of Jiangxi province. [Provided to China Daily]
Antitrust probes will help create new framework for car and parts sales in China
The car market has been subject to heightened antitrust scrutiny in China since early this year. Four BMW dealers were fined 1.63 million yuan ($265,000) on Wednesday for deceptive pricing and price fixing. The first fines on dealers may seem trivial, but the impact should not be underestimated.
Official source revealed that penalties on horizontal and/or vertical restrictions by 12 Japanese parts suppliers, FAW-Volkswagen's Audi division and Fiat's Chrysler will be rendered before long. Investigations into a number of other enterprises are ongoing.
The probe, led by the National Development and Reform Commission, has involved a large number of car manufacturers, parts suppliers and dealers. NDRC has conducted empirical research since 2011 with support from trade associations and academia. The research is also ongoing.
Enterprises seem vigilant about the exposure to antitrust enforcement and litigation in China. Prices of new cars, replacement parts, and after-sale services were cut one brand after the other. On the other hand, criticisms leveled at the increasing antitrust risks were lodged through chambers of commerce and other lobbyists.
Horizontal restrictions, i.e., cartels among competitors, are treated harshly under China's Anti-Monopoly Law. NDRC's investigations unveiled cartels among parts suppliers and among dealers, including those organized through sales managers of car manufacturers. However, the ongoing probe is more related to vertical restrictions.
NDRC's research found that vertical restrictions are similar and parallel among brands, are mainly imposed by car manufacturers, and are suspected of substantially impeding competition. In short, competition among authorized dealers was found to be distorted while effective competition does not exist between authorized networks and independent channels. NDRC has assessed the legality of the suspected conduct pursuant to the AML.
For example, resale price, maintenance on new cars, replacement parts and after-sales service rates eliminate price competition among authorized dealers.
Restrictions in the aftermarket are even more significant. Car manufacturers distribute manufacturer-branded replacement parts (genuine parts) exclusively through authorized networks. Dealers can buy genuine parts only from manufacturers' authorized channels and then sell the parts to car owners for repair and maintenance. Restrictions on choosing alternative quality parts limits authorized dealers' ability to compete with independent channels for aftermarket services, especially for out-of-warranty cars.
Independent repairers have limited access to genuine parts and technical information needed for repairers and maintenance and thus cannot guarantee quality services. Competition in the car aftermarket is further distorted.
As such, vertical restrictions, to a great extent, have resulted in excessively high prices of cars and parts in China.
Nevertheless, the dilemma is the inconsistency between the sector rules and the AML vertical rules. Tricky issues also exist in the AML rules on monopoly agreements and abuse of dominance as well as the relationship between public and private enforcement.
Authorized dealership is the prevailing model in China's car market, under which single-brand car dealers (called "4S stores") integrate the functions of new car distribution with after-sales services.
Prior to the NDRC's probe, car-owners sued 4S stores and car manufacturers over high prices for branded parts and repair services, and over tying of repair services with the sales of parts. The consumer plaintiffs relied on the AML rules on abuse of dominance but failed to meet the strict burdens of proof. The lawsuits were all dismissed.
The jigsaw puzzle is becoming more defined alongside the heated debates among stakeholders. What is wrong with the sector rules for the distribution of cars and parts introduced in 2005, which are frequently relied upon by enterprises when claiming legality? Will the NDRC be capable of regulating the car market pursuant to the AML, instead of waiting for the conflict-driven process of revising the sector rules? Would it be feasible to introduce special antitrust rules for the car market?
The NDRC's enforcement is aimed at rectifying anticompetitive conduct, deterring potential wrongdoing and protecting consumer welfare. This, nevertheless, is not the end of the story. Issues of the probe highlight the gaps of China's regulatory regimes. For the sake of business certainty and achieving an effective governance system, a new and concrete framework reconciling the antitrust and sector rules for cars and parts is unavoidable and much-needed.
The author is an associate professor at the Institute of American Studies, Chinese Academy of Social Sciences.