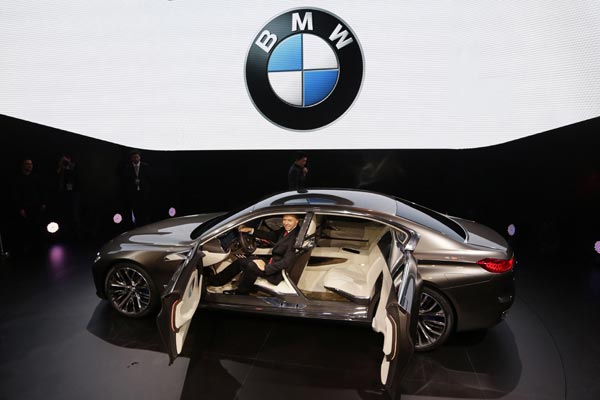 A BMW Vision Future Luxury concept car is displayed during its world premiere ceremony at Auto China 2014 in Beijing April 20, 2014. [Photo / Agencies]
Four BMW dealers in Wuhan, Hubei province were the first to be fined by China's anti-monopoly campaign targeting luxury automakers, eeo.com.cn reported on Wednesday.
It said Hubei Province Price Bureau fined the four dealers a combined 1.63 million yuan ($264,773) for deceptive pricing and setting unified prices for pre-delivery inspections (PDI).
Quoting Ding Muyun, an official from the Hubei Province Price Bureau, the report said these dealers weren't labeling the PDI price tag together with the car price in a clear position. Instead they listed the item on the car purchase contract, misleading customers, which is deceptive pricing.
Some BMW dealers in Hubei province set unified PDI fee standards in direct or indirect ways, creating an alliance to manipulate the market price eeo.com.cn reported.
Their actions violated China's Anti-monopoly Law and hurt the interests of consumers and other automobile dealers said the report.
BMW made a another price reduction in China, it's biggest global market, for more than 2,000 components by 20 percent from Aug 11 after an earlier price cut for 3,300 spare parts by an average of 15 percent this year.
Currently there are antitrust probes into 12 Japanese automobile makers, US-owned Chrysler and German-owned FAW Volkswagen's Audi division.
The antitrust probe into Audi dealers in Hubei province is in the administrative penalty procedure, Ding added.