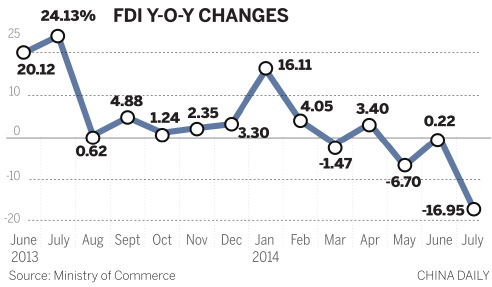 Antitrust investigations into foreign companies in China will not scare away foreign investors despite the inflow of overseas spending in July hitting a two-year low, an official said on Monday.
"Just a few antitrust probes will never scare away foreign investors," Shen Danyang, spokesman for the Ministry of Commerce, told reporters.
"As for China stepping up economic restructuring, it's normal to have some monthly fluctuations in foreign direct investment figures. This doesn't represent the overall FDI trend and should never be connected with antitrust probes into foreign companies. Groundless speculation is completely unnecessary," Shen said.
"We expect FDI for the whole year to remain at the same level as last year," he added.
The FDI last year was $117.59 billion.
From January to July, actual FDI flowing into China, excluding the financial sector, dropped by 0.35 percent from a year earlier to $71.14 billion, the ministry said.
For July alone, FDI slumped by 16.95 percent year-on-year to $7.81 billion, the lowest since July 2012, according to the ministry.
Antitrust authorities have launched a series of investigations into several industries, including technology firms Qualcomm and Microsoft and auto brands such as Audi, BMW and Mercedes-Benz.
The European Union Chamber of Commerce in China, representing more than 1,800 companies, has voiced concern that foreign companies are being targeted disproportionately.
Shen said: "After the Antitrust Law took effect six years ago, both domestic and foreign companies were investigated. The law treats all enterprises equally, and foreign ones are not targeted.
"The investigations into suspected monopolies aim to build a fair, transparent and orderly market, which is helpful in improving the investment environment. The assumption that some companies or countries are targeted is completely baseless."
Ma Yu, a senior researcher at the Chinese Academy of International Trade and Economic Cooperation, a ministry think tank, said, "The intensive antitrust probes have somewhat dented the inflow of foreign investment.
"The investigations raised foreign investors' concerns over China's policies and investment environment. Restraints on market access to modern services in China are also to blame for the slowed investment inflow."