GUIYANG -- The first high-speed train to operate on the recently finished Guiguang and Nanguang railways set off from the southwestern city of Guiyang on Friday Morning.
The new high-speed railways will upgrade railway networks in Southwest China's Guizhou province, Guangxi Zhuang autonomous region and the South Guangdong province.
With a total investment of 125.9 billion yuan ($20.28 billion), and a construction time of 6 years, they will help serve 192 million people across the three provinces.
The 856-km Guiguang high-speed rail line reduces travel time between Guiyang, capital city of Guizhou Province and Guangdong's capital city of Guangzhou from 21 hours to 4 hours and 9 minutes.
The 574-km Nanguang high-speed railway, a section of Guiguang railway, slashes travel time between Nanning, capital city of Guangxi Zhuang autonomous region to Guangzhou from 13 hours to 3 hours and 19 minutes.
Li Shengming, a passenger of Train D2805, is heading for Guangzhou for an eight-day trip. A senior at Guizhou University, Li regularly uses train when travelling between the two cities. He says it used to take more than 20 hours.
"It took almost a whole day. Jammed in the full-packed carriage. It was really a tough journey," Li said. "With the high-speed train, however, the journey now only takes less than five hours. It's unbelievable."
The train set off from Guiyang North Railway Station at 9 am and is expected to arrive in Guangzhou at 2:47 pm with seven stops altogether. The train, loaded to capacity, will pass through the mountainous regions of Guizhou, crossing through tunnels and passing by several ethnic villages.
Passengers cheered when the train reached 250 kilometers per hour, its top speed.
Madam Hu, 68, who is travelling with her friends, took a picture of the speed display with her cell phone.
"This is a historic moment for the people of Guizhou. It's the first high-speed railway linking Guizhou, my hometown. I have been looking forward to this moment since construction began," said Hu.
Meanwhile, another bullet train is travelling from Guangzhou to Guiyang.
The high-speed rail is expected to boost development of tourism, manufacturing and agriculture in the region.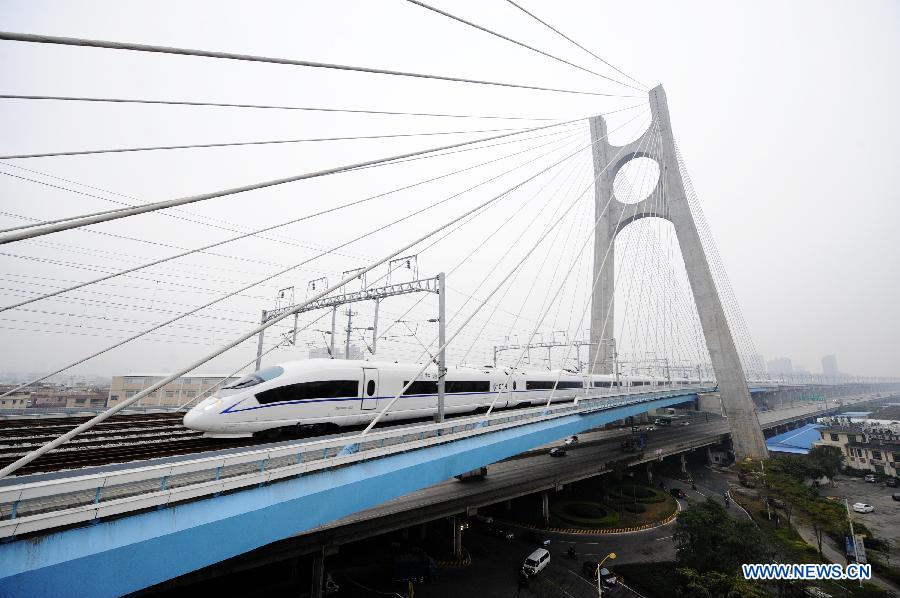 A bullet train runs through a grand bridge in Foshan city, South China's Guangdong province, Dec 26, 2014. The 857-kilometer high-speed railway linking Guiyang, capital of landlocked mountainous province of Guizhou in Southwest China, with South China's economic powerhouse Guangzhou, Guangdong's capital, started operating on Dec 26. [Photo/Xinhua]