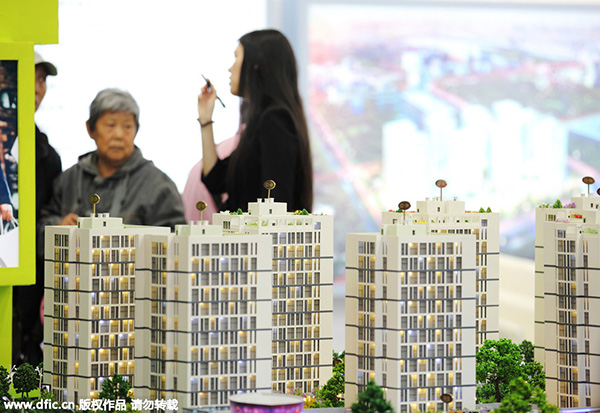 A sales woman introduces an overseas property program to visitors at a spring real estate exhibition held in Beijing, April 17, 2015. [Photo/IC]

Rising prices have drawn more investors from Germany, South Africa and China
China's recent economic slowdown and stock market rout has not deterred Chinese enthusiasm toward overseas properties, brokers said.
Andrew Taylor, co-founder and co-CEO of Juwai.com, a major overseas property information platform for buyers in China, told China Daily that consistent online traffic and phone calls showed there is no sign of waning appetite for overseas properties.
"We believe overseas property transactions will climb to $220 billion by 2020 from $52 billion last year. The era for overseas investment has just begun," he said.
Simon Henry, another founder and co-CEO of Juwai.com, said the yuan's depreciation would only change investment destinations, because despite the yuan falling against the US dollar, it has risen against the UK pound and Australian dollar.
"Purchases will continue to grow strongly in the next five years as more Chinese enter the middle class," Henry said.
While traditional gateway cities such as London, New York and Sydney maintained their popularity, other cities have seen rising Chinese interest. For example, Juwai's purchasing intent index for properties in Queensland, Australia, reached a high in June and was up 17 percent over a year ago.
Sandra Li, an investment expert with Aoye Immigration Service, which provides migration and investment consultation to Chinese buyers interested in Australia, said she did not see any reduced enthusiasm toward Australian properties at all.
"The downturn in China's domestic property market actually drove many Chinese developers to rush to Australia to grab land," she said.
"What inspired me is the rising prices have drawn more investors from Germany and South Africa, so they wouldn't put all the attention on Chinese," she said.
Henry said the perception of Chinese investors pushing up housing prices in Australia is overplayed. The biggest issue is the short supply, not Chinese.
The short supply of housing in major cities is so severe that developers purchase a developed site downtown, demolish the old office building and put up a residential project.
"International buyers still only account for 8 percent of the Australian market, so how can they push up the whole market?" Henry said.
"An interest rate rise probably would dampen the heat. Actually a bit of a cool down would be good," Li said.