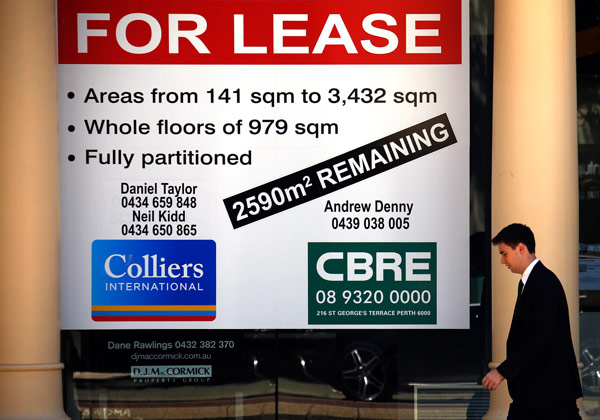 A man walks past a "For Lease" sign on display outside a building in the Western Australian capital city of Perth March 5, 2015. [Photo/Agencies]
Real estate agents in Australia, Britain and Canada are bracing for a surge of new interest in their already hot property markets, with early signs that wealthy Chinese investors are seeking a safe haven from the turmoil in Shanghai's equity markets.
Sydney agent Michael Pallier said that in the past week alone he has sold two new apartments and shown a $10.3 million house in the harborside city to Chinese buyers looking for an alternative to stocks.
"A lot of high net worth individuals had already taken money out of the stock market because it was getting just too hot," said Pallier, the principal of Sydney Sotheby's International Realty. "There's a huge amount of cash sitting in China, and I think you'll find a lot of that comes to the Australian property market."
Around 20 percent has been knocked off the value of Chinese shares since mid-June, although attempts by the government to stem the bleeding are having some effect.
Many wealthy investors had already cashed out. Major shareholders sold 360 billion yuan ($58 billion) in the first five months of the year, compared with 190 billion yuan in the whole of last year, according to Bank of America Merrill Lynch.
In London, Alex Newall, managing director of super prime residential agent Hanover Private Office, said he had seen an increase in interest from Chinese investors at the top of the market, although no transactions yet.
Australia and Canada are also gaining popularity and have an edge because of their weakening currencies.
However, there are also concerns that Chinese investors who did not bail out of stocks quickly enough will be a dragon international property markets, particularly after Beijing on Thursday banned shareholders with large stakes in listed firms from selling for six months.
In London, Naomi Heaton, the CEO of London Central Portfolio, said she had heard of investors pulling out of new-build purchases because they no longer had the capital.