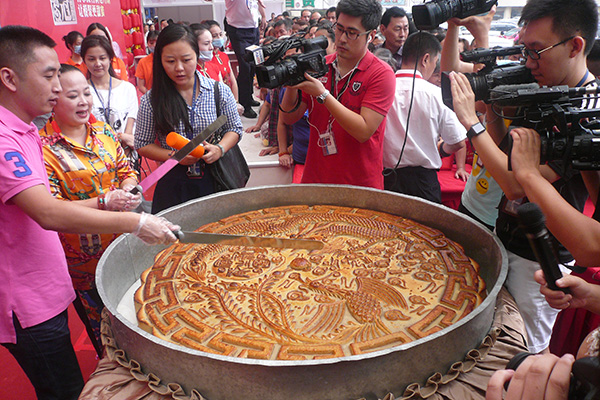 A giant mooncake, weighing 300 kilograms and 1.4 meters in diameter, is ready for sharing by participants at the 15th China (Sichuan) Mooncake Culture Festival, which opened on Tuesday in Chengdu, capital of Sichuan province. [Photo/China Daily]
Extravagant mooncake gift-sets are ubiquitous for the Sept 27 Mid-Autumn Festival, brightening the glorious weather witnessed in Beijing and other places last week.
The scene was in contrast to the last two years when mooncake sales were savaged by the nationwide anti-graft campaign that saw bans on use of public funds to buy them and on officials from giving or receiving expensive mooncake gift-sets.
This year, however, high-end hotels and supermarkets have put on their shelves luxury mooncakes in a variety of flavors and attractive packaging.
For instance, Beijing's China World Summit Wing Hotel is offering two extravagant mooncake sets in addition to its regular ones. The 1,588-yuan ($250) deluxe set comes with abalone, a bottle of imported wine, olive oil, exotic chocolates and other freebies. Its packaging is exquisite, couched either in a hand-woven bamboo basket or a delicate-looking wooden case.
Mooncake-makers are expected to raise this year's output by 5 to 20 percent. So, "out-of-stock" situations are unlikely. For instance, the Beijing Daoxiangcun Foodstuff Co, known for its famous mooncake brands, plans to produce more than 2.25 million kilograms of mooncakes this year, up 10 percent year-on-year.
"This year's Mid-Autumn Festival falls very close to the National Day holiday in October. We expect mooncake sales to grow this year," said Zhu Nianlin, director-general of the Chinese Association of Bakery and Confectionary Industry.
According to the association, mooncake sales are expected to rise 10 percent this year. Since mooncakes typically last for 60 days, a major portion of gift-sets and bulk orders was made early this month.
Online outlets that offer luxury mooncakes and gift coupons, sometimes at reduced prices, are adding to the mooncake market buzz this year.
According to the Taobao Index, which shows trends based on statistics from Taobao.com, the online marketplace owned by e-commerce giant Alibaba Group Holding Ltd, searches using "mooncake coupons" as keywords in mid-September soared 1,800 percent compared with the same time last year.
About 40 percent of searchers are mid-range consumers, and 57 percent are in the top-end consumer bracket. The majority of searchers are aged between 30 and 39.
Hungry shoppers warned over online orders from overseas
Officials have warned consumers to be vigilant about the safety of mooncakes bought from overseas on e-commerce platforms, ahead of the upcoming Mid-Autumn Festival.