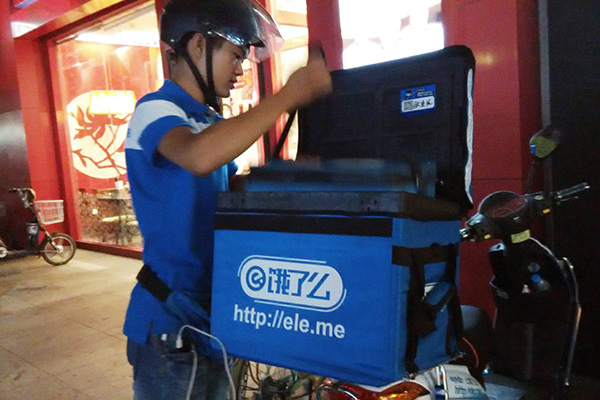 Food delivery motorcyclists from ele.me on the streets in Beijing. [Photo/China Daily]
Online-to-offline sales in the catering sector hit 8.2b yuan in Q2 as business booms
Sheng Kun rarely used to have breakfast. But since March, he has been ordering it online at ele.me every day, thanks to the food delivery boom in China.
"Placing orders online is so convenient and cheap. I can order breakfast on my phone the day before and pick it up at a spot near my office the next day," said Sheng, 26, a game designer in Beijing.
Last Monday, for instance, Sheng ordered via his phone a bowl of mung bean porridge and two steamed buns for 3 yuan ($0.47), at 30 percent of the price if he had bought them at a restaurant.
"Why bother to line up at the restaurant for a meal ever again?" Sheng added. "These online food ordering sites offer such cheap meals and good food delivery services."
Sheng is not alone. In the second quarter, online-to-offline, or O2O, catering industry transactions hit 8.2 billion yuan, up by 89 percent from last quarter, according to Beijing-based Internet Consultancy Analysys International.
Although online food ordering only accounts for a small proportion of the catering industry, as more people turn to mobile apps and websites for food delivery services, its market volume is expected to hit 40 billion yuan in 2017, research company iResearch Consulting Group forecasts in a report.
One of the main reasons for the rapid surge in China's online food ordering sector is a price war led by Internet companies.
Heavyweights Baidu Inc and Alibaba Group Holding Ltd both launched their own O2O platforms to promote food delivery services. Startups, such as ele.me, which is backed by Tencent Holdings Ltd and JD.com Inc, and Groupon-like meituan.com, are also eyeing the sector.
"Currently, these online platforms are offering similar services in terms of partnered restaurants and delivery qualities," said a venture capitalist who declined to be identified.
"Their differences are not big enough to lure customers away from competitors, so a powerful weapon is to launch a price war to vie for price-sensitive users."
So far, the strategy has worked.
Due to heavy subsidies, meituan.com has seen its market share rise by more than 7 percent to 34.5 percent in the first six months of this year in terms of transaction values, taking the crown from ele.me, which now has a market share of more than 33.5 percent, according to Analysys International. While the food delivery services launched by Baidu and Alibaba hold 12.7 percent and 4 percent respectively, they trail market leaders because of their late entry to the market.