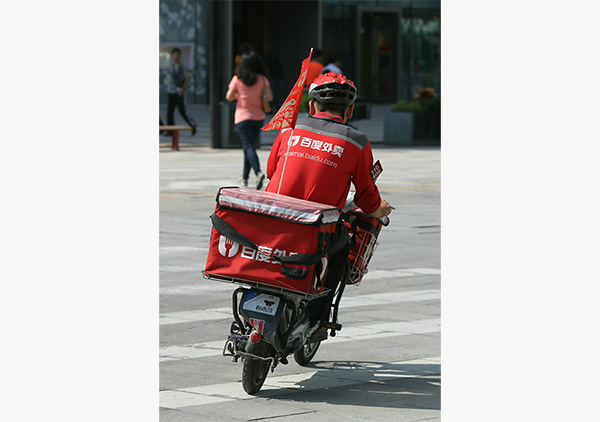 Food delivery motorcyclists from Baidu Waimai on the streets in Beijing. [Photo/China Daily]
However, winning an increased market share purely through burning cash is not a sustainable strategy. "Customers have no loyalty. They just choose platforms that offer the biggest discounts. When subsides disappear, consumers are also likely to return to the traditional way of eating at brick-and-mortar restaurants," Liu Xuwei, an analyst at Analysys International, said.
Also, the online battle leaves fledgling companies financially overstretched. Earlier this month, ele.me reported that it had raised $630 million from investors, a deal that values the company at $3 billion. But the announcement has triggered doubts from industry analysts who believe the company is overvalued.
Meituan.com, which received $700 million in funding at the start of the year, is also reportedly searching for a new round of funding, while Baidu's food ordering platform Baidu Waimai also managed to attract $250 million from deep-pocketed investors in July.
"After months of head-on competitions in handing out subsidies, the industry is now looking for money," said Tao Jingqi, senior analyst at big data firm TalkingData.
What complicates the issue is that except for ele.me, most Internet players that branch out into the sector do not have licenses for delivering food. These businesses are now facing regulatory barriers.
Despite these difficulties, market players are beefing up efforts to improve and diversify their services. Kang Jia, co-founder and chief cooperating officer of ele.me, said that the platform is expanding its food delivery services to five peak-time phases in one day.
"Unlike our peers which only focus on the regular three meals, we are adding desserts and snacks in the afternoon since most white-collar workers tend to have a tea break," Kang said. "Now around 19 percent of orders are for afternoon services."
The company is also rolling out special snacks to meet people's growing appetite late at night.
"Offering snacks at night is the most promising niche because it covers a long time range which starts from 8 pm to maybe 2 am the next day," Kang added.
While meituan.com is channelling more resources to build up the inventory on its platform, Wang Huiwen, who is in charge of food delivery services at the company, said, "We are now taking steps to add more items such as fruit, flowers and other products sold at supermarkets."
Cooking up a stormin food delivery
Standing beside a minibus in the Chaoyang district of Beijing, Fu Yongjian stares at a sheet of paper full of names and telephone numbers.
He is waiting for people to pick up breakfasts they have ordered online.
"On average, there are 60 breakfasts every weekday," said the 43-year-old, who is one of the 4,000 professional deliverymen at ele.me. They are called the "knights" of the food-ordering platform.