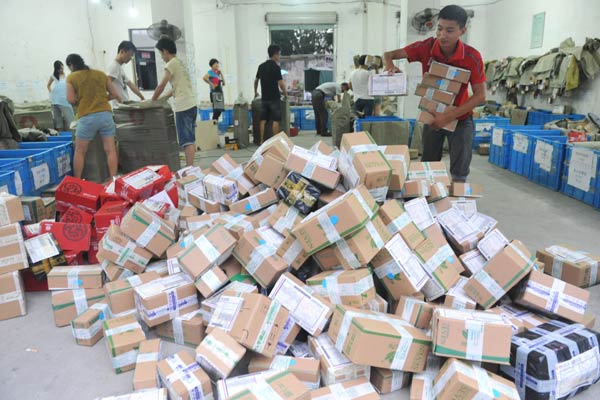 Workers at a delivery service sort parcels in Hangzhou, Zhejiang province. China is set to further open its express delivery market to foreign companies. [Hu Jianhuan/China Daily]
BEIJING - Express delivery services in the world's second largest economy are booming, with private couriers named the major players, official data showed Thursday.
The postal business model has changed over the six years ending 2014, with the number of packages transported by express delivery surging by 820 percent and accounting for the movement of 63.9 percent of all post in the country, according to the State Post Bureau (SPB).
Based on the number of packages sent in 2014, the SPB averaged that for every person in China, 10.2 express delivery packages are sent.
Private firms hold 85.6 percent of the express delivery market and made 154.1 billion yuan ($25.2 billion) in revenues in 2014, 75.3 percent of the whole sector's revenues.
Experts attribute the surge in express delivery services to booming e-commerce, led by Alibaba's Taobao, the country's largest online retail marketplace.