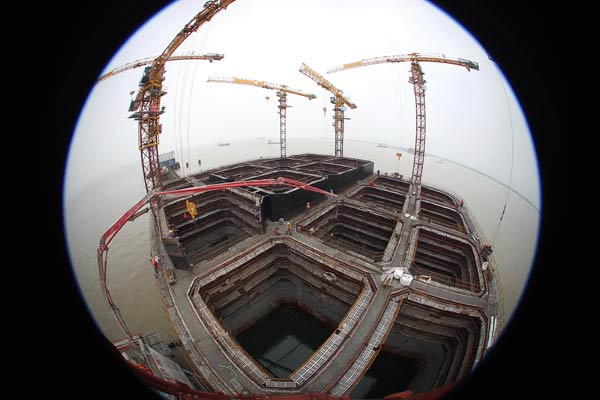 The Shanghai-Nantong Yangtze Bridge under construction on the Nantong side of the river in Jiangsu province. [XU CONGJUN/FOR CHINA DAILY]
BEIJING - As a slower Chinese economy and recent volatility on its financial markets made headlines worldwide, a new course of growth for China has been emerging.
Where the world's second largest economy goes next was the hot topic at the Summer Davos Forum in the northeastern city of Dalian, after weak performance of major economic indicators and the latest stock market rout rattled investors' nerves.
Anaemic external demand and a cooling property market have dampened exports and investment, both traditional drivers of China's growth.
However, some signals show that new drivers, including innovation, technology and consumption, are playing a bigger role.
While the shift of pattern is far from complete, those signals have charted a new course of growth for China's economy.
Start-up tide, high-tech bright spot
Speaking of these new drivers at the forum, Chinese Premier Li Keqiang pointed to mass entrepreneurship and innovation, saying an average of over 10,000 new market entities have been registered every day since last year, despite the economic slowdown.
In the first half of 2015, newly registered enterprises had a total registered capital of 12 trillion yuan ($1.9 trillion), up 43 percent from a year earlier.
The government has rolled out reforms to streamline business registration procedures, provided tax breaks and fee cuts and set up a 60 billion-yuan fund to support small and medium-sized enterprises.
In "maker clubs" across major cities in China, small and micro start-up companies are offered low rents and easier access to venture capital.
"Almost all the young people I have met recently are thinking about starting their own business," said Huang Yiping, a Peking University professor in economics. "Some say there's a bubble, but a bubble of innovation is a good one."
The government efforts to boost innovation will play a strong role in driving China's growth in the next two or three years, said Liu Yuanchun, an economist at Renmin University.
Despite softening industrial production and investment, there has been an upturn in high-tech industries and strong growth in patented technology, Liu told Xinhua.
Output of high-tech industries expanded faster in July than the previous month, up 9.6 percent year on year, while overall industrial output growth slowed to 6 percent.
In the first seven months, investment in high-tech industries rose 16.4 percent year on year, 5.2 percentage points higher than the overall fixed-asset investment growth rate.