Tech company LeTV Holdings Co Ltd roped in a former top automobile executive on Thursday in its quest to wrest the electric vehicle crown from Tesla Motors Inc.
Ding Lei, former vice-president of SAIC Motor Corp Ltd, a State-owned automaker, has joined LeTV and become a co-founder of its electric-car unit Leshi Super Electric Car Co, said Jia Yueting, founder and chief executive of LeTV.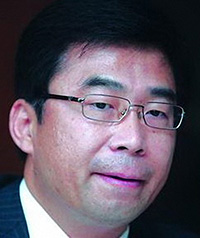 Ding Lei, vice-president of Leshi Super Electric Car Co
Ding is one of the highest-level State-owned automobile executives to head an Internet company-backed electric-car maker. He will serve as the unit's global vice-president and be in charge of its business in China and the Asia-Pacific region.
"Ding is an industry veteran with strong connections. His abundant experience will help us surpass international players and prevail in the global electric-car industry," Jia said in a microblog post.
Before joining LeTV, Ding served as the deputy chief of Pudong New District in Shanghai. But his most well-known achievements occurred at Shanghai General Motors Corp where he was general manager from 2005 to 2011. Under his leadership, the company led the domestic passenger vehicle market four times in terms of sales.
Ding's arrival is part of LeTV's broad efforts to build up its talent pool. Since January, it has been scrambling for automobile experts from leading car manufactures.
Among its new staff are former high-ranking employees from Infiniti Motor Co Ltd, FAW-Volkswagen Automotive Co Ltd, and GAC Toyota Motor Co Ltd.
The move also comes as Chinese Internet companies are showing greater interest in the automobile industry.
Alibaba Group Holding Ltd, Tencent Holdings Ltd, Baidu Inc and Xiaomi Corp are all marching into the sector through either partnerships or acquisitions.
Thilo Kozlowski, vice-president and senior analyst at research firm Gartner Inc, said automobiles are the ultimate mobile device and from that perspective, Internet and technology companies are comfortable in entering the sector.
"Electric vehicles are of particular interest to the companies because they represent less complexity than traditional internal combustion engine vehicles," Kozlowski said.
Neil Shah, research director at market research and consulting firm Counterpoint Technology Market Research, said Internet and software giants are already providing software, maps and digital services for the automobile dashboard.
"It makes natural sense to participate in the industry while it is still in the nascent stage," Shah said. But he also warned that these new companies may be underestimating the complexities of building automobiles.