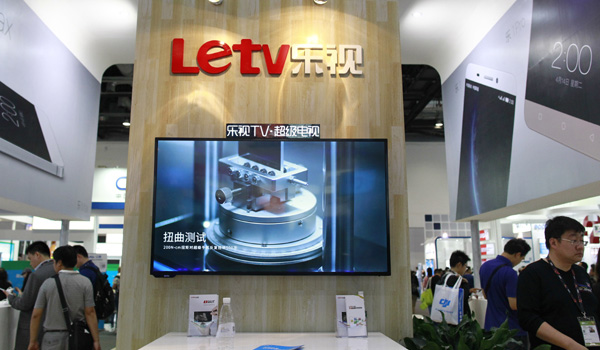 The booth of LeTV Holdings Co Ltd at a mobile Internet conference held in April in Beijing. The cash-hungry LeTV is in urgent need of capital on multiple fronts. [Photo/China Daily]
The company is in need of capital to finance expansion and diversify its range of products
LeTV Holdings Co Ltd founder and CEO Jia Yueting's plan of selling company shares worth more than 10 billion yuan ($1.61 billion) triggered a panic among investors that led to a price dip on the board of listed startups on Tuesday.
The cash-hungry LeTV is in urgent need of capital on multiple fronts, including film making, smartphones, electric car building and sports broadcasting. Jia will lend the cash-outs to LeTV interest-free for five years to ease the liquidity problem the company is facing.
The Beijing-based LeTV also said that it would issue additional shares worth 7.5 billion yuan to replace a previously announced 4.5-billion-yuan new share offering.
The price of LeTV, listed in Shenzhen, dropped by 1.90 percent to 74.89 yuan on Tuesday after recovering from a 10-percent slump in the morning. On the contrary, the ChiNext Index, which tracks China's Nasdaq-style board of growth enterprises, recorded a 4.33 percent increase. LeTV is a major IT company that influences the index.
Li Daxiao, chief economist at Guangdong-based Yingda Securities Co Ltd, said from an investment perspective, it is a smart choice to sell the shares of startups.
"Our research shows that 9 out of 10 investors are selling shares of startups listed in Shenzhen, and the turning point is very close for the ChiNext Index after recent growth," Li said. The ChiNext Index has surged by about 140 percent over the past six months.
Business expansion of LeTV has given Jia a perfect opportunity to reduce his holdings near the peak. LeTV has also been seeking investment for its emerging businesses.
Earlier this month, LeTV's sports arm received a 2.8 billion yuan investment from two rich Chinese enterprises: Wanda Group and Alibaba Group Holding Ltd.
Its smartphone unit, which just released the first-generation handsets, also reportedly received funding worth more than $300 million.
LeTV did not confirm the investment, but a person familiar with the matter told China Daily the deal was "very much the case".
Zhu Dalin, a researcher at Analysys International, said LeTV is in need of strong financial support because it is planning an ambitious ecosystem that could compete with rivals such as Xiaomi Corp.
"A bigger ecosystem will give LeTV an edge in the competition," Zhu said.
LeTV is attempting to utilize its advantage in online content resources to sell hardware such as Internet televisions and smartphones so that users can watch videos free of charge.
It is battling with Xiaomi for the control of living rooms. Xiaomi, a leading smartphone maker, also sells TVs that can play online videos and download applications.