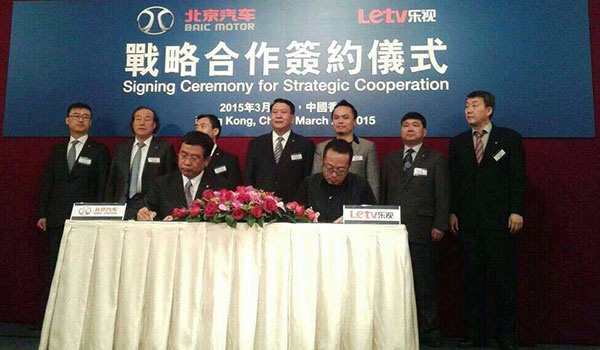 BAIC Motor and Le Holdings Co signed an agreement in Hong Kong to jointly build Internet cars on March 23, 2015. [provided to chinadaily.com.cn]
BAIC Motor and Le Holdings Co signed an agreement in Hong Kong to jointly build the first internet vehicle on March 23, and the first model is expected to debut on the Shanghai auto show in April.
The mature model will not enter the market until 2016, the company said.
BAIC Motor is a top five automaker in China, with 2.4 million delivery of cars and turnover of 300 million yuan last year.
Le Holdings Co, also kwown as LeTV, is the only internet company that has its online steaming website listed on the A-share market, and it has established a research and development group with more than 260 employees formerly working in Tesla, Mercedes-Benz, BMW, Volkswagen and Ford.The R&D center is based in Silicon Valley, California.
LeTV will provide technological supports for BAIC to build its internet cars, including the internet of cars technologies and smart control systems.
BAIC Chairman Xu Heyi said in an interview with Sina that the cooperation is a "complementary deal between BAIC and LeTV".
"LeTV has the Internet technologies and the Internet mindset, but they barely know anything about car manufacturing. Even they can build a car, it won't be stable in quality, just like the case of Tesla; while BAIC is an established automaker, but we lack the Internet way of thinking."
Xu said he hopes this partnership can help BAIC climb the value chain and embrace the Internet era.
The reason why BAIC chose LeTV is that LeTV has built a relatively complete chain from TV to contents and applications, Xu added.
Earlier this year, LeTV introduced the first user interface system for cars--the EUI system. The system links all digital devices including the car, cell phone and television.
This is not the first time that BAIC and LeTV joined hands. Last year, the two parties jointly invested in US electric car design company Atieva, a company once made designs for Tesla.
Atieva has developed multiple new-energy vehicles including star models such as Tesla Roadster and Chevrolet Volt and Audi R8. It will also provide technological support for BAIC and LeTV.
BAIC General Manager Zhang Xiyong said BAIC and LeTV has gained trust of each other during the co-investment in Atieva, and this agreement will bring the cooperation to a new level.
During the annual two sessions this month, Premier Li Keqiang brought up the concept of "Internet plus" and made it the national strategy. This sends out a clear signal that Internet will be a new engine of the economy.
He Yi, vice-president of LeTV, said the cooperation will include car research and development, spare parts manufacturing and after-sales services.