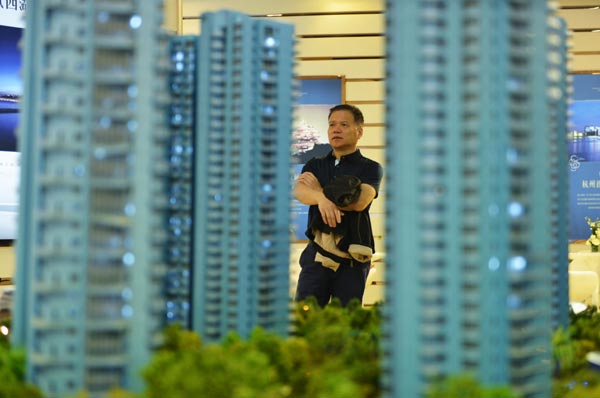 A man examines property models at a housing sales center in Hangzhou, capital of Zhejiang province. [Photo/China Daily] 
China is suffering a property downturn marked by structural oversupply and faltering investment demand. While underlying "final user" demand from urbanization and upgrading has been stable, new housing supply had until 2013 been expanding rapidly, increasingly exceeding demand.
At the same time, investment demand, which previously filled the gap, has been eroded by a sharp increase in real interest rates, stagnating or falling property prices, the rise of alternative onshore and offshore investment channels and changing renminbi exchange rate expectations. This shift in the supply-demand balance and large excess inventory overhang has seen building work take a downward turn since the start of last year, ending a decade-long property and construction boom.
While sales have improved in recent months, new starts and overall construction have weakened further. After a decline of 7.6 percent last year, property sales have improved since March, due to policy easing. Residential property sales grew 7 percent year-on-year in April and maintained solid momentum into May according to high frequency data.
On the other hand, after contracting 11 percent last year, new property starts declined by a further 17 percent year-on-year in the first four months of 2015, as developers' land purchases dropped 38 percent year-on-year. The sharp contraction in new starts and improvement in sales have seen inventory/sales ratios come down from their previous highs across all city tiers, suggesting that destocking is underway.
We expect sales to continue to improve modestly for the rest of this year on the back of policy support, helping to mitigate the decline in construction activities. However, destocking still has some distance to run before inventories go back to a more reasonable range, particularly in third and fourth-tier cities. As such, the downward trend in construction is unlikely to be reversed any time soon.
Policies have been eased over the past year but there is room to do more. Home purchase restrictions were loosened in most cities in mid-2014, mortgage restrictions were eased last September and the minimum down payment for mortgages was cut at the end of March this year. Multiple interest rate cuts have also helped lower mortgage rates.
On the supply side, the government has also asked local governments to rationalize and reduce land supply if necessary and purchase existing inventory for social housing purposes. We think the government can further cut down payment requirements (from 30 percent to 20 percent for all first mortgages, for example) and accelerate hukou reforms in lower tier cities later this year, if property activity weakens again (as we expect). The additional rate cut we expect and further relaxation of developers' fund-raising access should also help.
Existing and upcoming property policy easing is unlikely to re-inflate the property bubble, and at best only mitigate and stabilize the downturn. Policies remain relatively tight despite instances of easing, in contrast with the sharp policy reversal of 2008-09. Also, most measures are intended to rein back administrative controls to promote a more sustainable development path for the sector.
More importantly, the fundamental supply-demand mismatch and fragile fundamentals in China's property sector make a sharp construction rebound highly unlikely. At best, policy easing may only help cushion the economy from the ongoing downshift.
We continue to expect new starts to decline by another 10-15 percent this year, further dragging down overall construction and real estate investment growth. In other words, by the end of this year new residential starts will be running at 25-30 percent lower than the peak reached in 2013, or at 1 to 1.1 billion square meters. After such a correction, a new steady state with lower starts and construction could be reached sometime next year.
Nevertheless, we think overall construction volume (i.e., floor space under construction) and real estate investment will continue to decelerate into 2016, weighed down by the delayed effect of this year's contraction in starts. The ongoing property construction downshift will bring increasing headwinds to all property-related mining and heavy industries. In particular, demand of commodities and raw materials (for example, steel) is expected to weaken further this coming year, bringing with it wider ramifications for fixed investment growth, local government finances and banks' asset quality.
The article is written by UBS economists led by Wang Tao. The views do not necessarily reflect those of China Daily.