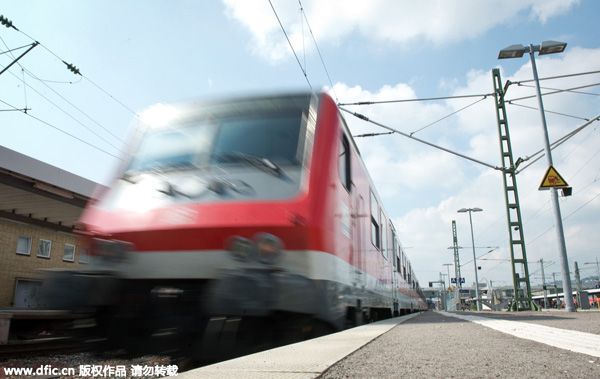 A train of German railway operator Deutsche Bahn (DB) departs from the central railway station of Stuttgart, Germany, 21 May 2015. [Photo/IC]
BERLIN -- Germany's national railway operator, Deutsche Bahn, said Tuesday that it was considering buying trains and spare parts from China in the future.
"In three to five years from now, Asia and China in particular can assume a key role in supplying Deutsche Bahn with trains and spare parts," board member Heike Hanagarth told German newspaper Frankfurter Allgemeine Zeitung on Tuesday.
According to Hanagarth, Deutsche Bahn's objective is to cooperate with Chinese train makers CSR and CNR, and the company plans to open a purchasing office in Beijing as early as this coming fall.
As a first step, Deutsche Bahn would reportedly start to buy part of its annually required 35,000 wheel sets in China from 2017.
China has put more effort to develop high speed rail market in Europe and North America.
Earlier this year, China Railway Group Ltd said it expects to sign the country's first overseas high-speed railway contract by the end of May. This will pave the way for Chinese construction and rolling stock companies to bid for follow-up projects.
A consortium, comprising of China Railway Eryuan Engineering Group Co Ltd, a subsidiary of China Railway, and two Russian companies, have won a 20 billion rouble ($390 million) contract for the project linking Moscow to Kazan in Russia.
The consortium will oversee engineering research and project planning, China Railway said in a statement.
With a maximum design speed of 400 kilometers per hour, this will cut the journey time from Moscow to Kazan, the capital of the Russian republic of Tatarstan, to three-and-a-half hours from the current time of more than 14 hours. The project is due to be completed by 2018.
Chinese state firms are poised to be strong contenders in the race to make high-speed trains that will sprint between Los Angeles and San Francisco, a part of a $68 billion project to bring the service to the United States for the first time.
While "bullet train" manufacturers from Germany, Japan, South Korea, and France are expected to be among those jockeying for the estimated $1 billion train contract, China's ability to offer low prices and hefty financing appear to make it the one to beat, said lobbyists and industry insiders.