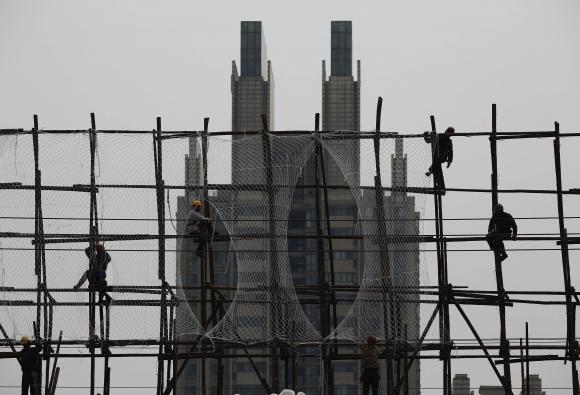 Labourers work on the scaffolding of a construction site for a new residential building in Beijing, May 6, 2014. [Photo/Agencies]
China will increasingly manage its property sector at a local level as it seeks to avoid sparking either an abrupt slowdown that undermines the economy or another surge in prices, according to government economists involved in policy discussions.
After increasing at double-digit rates through most of last year, home prices started cooling in late 2013 as a sustained campaign to clamp down on speculative investment and easy credit gained traction.
Annual growth in average new home prices slowed to an 11-month low in April, official data showed on Sunday. Existing home prices dropped from a month earlier in 22 of 70 cities in April, compared with 14 in March.
Data last week showed property sales dropped 6.9 percent in the January-April period from a year earlier in terms of floor space, and fell 7.8 percent in terms of value.
Authorities know a severe property crunch could worsen a build-up of debt, but also that a blanket easing of restrictions could set off another round of credit-fuelled house price rises.
"There is no sign that the central government will relax property controls on a nationwide scale even though the economy is slowing," said Zhao Xijun, deputy head of the Finance and Securities Institute at Renmin University in Beijing.
"The pressure is mainly on local governments, because some of their debts are maturing and they need to repay."
Local governments rely heavily on revenues from land sales to fund debts that official data show total 17.9 trillion yuan ($2.9 trillion), so price falls and slowing sales have sparked concerns about their ability to service their debts.
The economists expect restrictions on property introduced over the past five years to largely remain in place, particularly in major cities, but with some local authorities given leeway to support their markets.