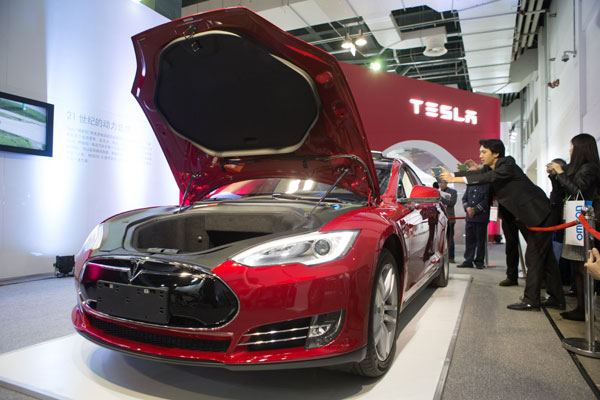 More than 30 percent of the cost of a Tesla in China is taxes, said the carmaker. Gao Erqiang / China Daily
Though details are currently still under consideration, the Chinese government is considering lowering the tax on imported electric vehicles, Beijing Business Today reported.
Miao Wei, minister of Industry and Information Technology, said the government is also working on regulations to encourage overseas enterprises such as Tesla to develop and produce electric vehicles in China.
The Chinese government currently only provides subsidies to locally produced new-energy vehicles, with 35,000 yuan ($5,700) to 60,000 yuan available to buyers of pure electric passenger vehicles.
Last year, the government offered subsidies totaling 26.5 billion yuan to stimulate purchase of energy-efficient products, mainly automobiles and household appliances.
US electric carmaker Tesla has appealed to the Chinese government to extend the incentives to imported models.
"We understand we are not qualified for direct subsidies at the moment," said Diarmuid O'Connell, Tesla's vice-president of business development.
"We're hoping the government will consider the role Tesla can have in catalyzing electric vehicle adoption in China and extend those incentives to our Model S as well."
According to Tesla, the customs tariff, added value tax and other taxes account for 30.2 percent of the final price tag of its cars in China.
Some experts say localization is crucial to reducing Tesla's cost and price."It is difficult to reduce the customs tariff especially for Tesla," said Jia Xinguang, an independent auto analyst in Beijing.
Nissan has already decided to localize its electric vehicle production in China through its Venucia brand. The Japanese manufacturer has announced it wants a 20 percent share of the market.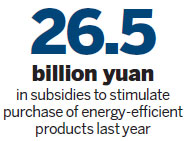 Some domestic automakers oppose to cutting the tax on imported vehicles because local manufacturers will meet even stiffer competition in the future electric vehicle market.
But some other automakers said Tesla competes in the high-end market, so a tax cut would not have an adverse impact on domestic brands.
The BYD E6 electric sedan originally priced at 330,000 yuan is eventually sold for 216,000 yuan with 110,000 yuan in subsidies from various levels of government.
In comparison, Tesla's Model S is priced from 734,000 yuan to more than 1 million yuan.
"We consider the Model S by Tesla a luxury type," said Li Xiang, founder and president of Autohome.com.cn.
Although buyers of Tesla are fond of its smart technologies, it is not suitable for daily transport at present due to the lack of charging facilities in China, Li said.