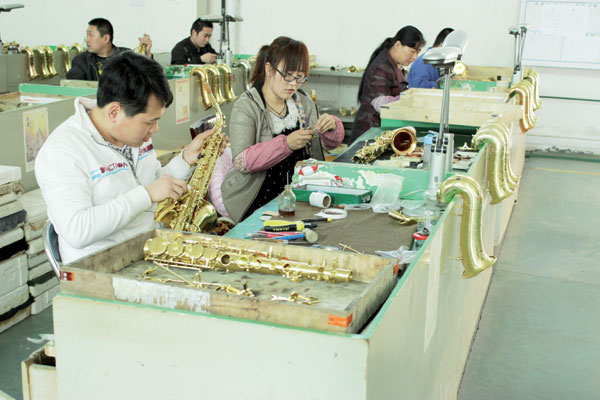 Workers make musical instruments at a factory in Wuqiang county, Hebei province. Exports of Western musical instruments from China hit $1.66 billion in 2013, with markets covering 189 countries and regions. Photos by Zhang Yu / China Daily
Makers of musical instrument in Wuqiang embrace modern tech
Soft strains of music wafting up from the various shops and factories in Wuqiang hardly give an inkling that the county is one of the leading manufacturers of wind musical instruments in the world. The relatively unknown county in Hebei province is also a major exporter of musical instruments such as flutes and clarinets.
China is already among the top six manufacturers in the world that collectively account for 90 percent of the musical equipment market, according to statistics provided by Music Trades, a well-known trade magazine that tracks the music industry.
Exports of Western musical instruments from China hit $1.66 billion in 2013, with markets covering 189 countries and regions. The United States, the UK and Germany were the top destinations for these products, according to customs data.
Though Wuqiang's success is testimony to China's stature as a manufacturing powerhouse, it is also an ideal example of how some lesser-known Chinese counties are taking the manufacturing route to success, rather than the traditional farming-driven approach.
"Our products have been well-received in Western markets, and are shipped to more than 30 countries like the US and Germany," says Chen Xuekong, manager of Hebei Jinyin Musical Instruments Manufacture Group Co Ltd, the funding company for the industry in Wuqiang.
Annual production of woodwind, brass, strings (essential parts for most musical instruments) and guitars exceeded 1 million pieces last year with an estimated output value of 426 million yuan ($68 million). Nearly 85 percent of this was exported, Chen says.
"When we started, we were a small workshop in a rural area with 21 untried farmers. But in two decades, we have not only become a leading musical instrument maker, but also employ more than 2,600 skilled employees. In addition, we have played a big role in adding more jobs to the Hebei economy."
Yu Shaofeng, deputy director of the management committee of the economic zone in Wuqiang, says the success of the musical instruments industry has been an eye-opener for the county.